2 0 1 3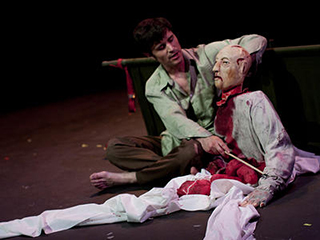 Waiting for Godot
Aisle 9
Death of Brian
Seattle
Seattle Fringe Festival 18 - 22 September 2013
I performed at the very first Seattle Fringe Festival, somewhere around 1989, when it was one night at the Backstage in Ballard. I was in Kings' Elephant Theater at the time. Then when it took off in the late nineties, I participated as a director of John Kaufman's Third Day's Child and emceed many events in those heyday years. Last year the Seattle Fringe Festival was resurrected after many years. This year it hits the ground running with some fantastic shows and as it happens, I'm all over it -- directed a show, wrote another show, and will be performing in yet another show. Come see all three, I command it.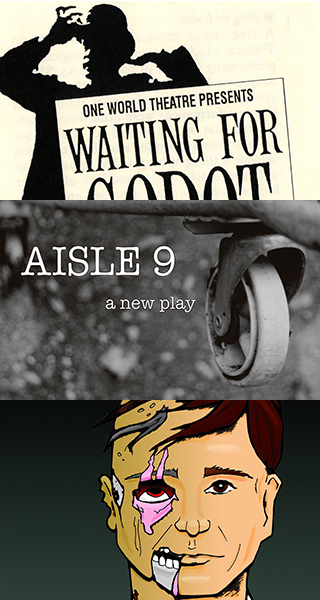 MID/POST FACTUM 9OCT13 3:30PMIn the three weeks that led up to the seattle festival I was working so hard getting Godot back on it's feet after twenty three years. By working hard I mean memorizing the cryptic monologue, exercising my drool and leg muscles, and watching the boys do the heavy lifting for many hours of rehearsal every single day. Also, I hit a couple Death of Brian rehearsals. It was apparent Ricky was at the top of his game and the show was in really fantastic shape -- and a great show it is! It'd been a couple months since dipping my hands in that pie. Pleasantly reminded how good the writing is and how vibrant his performance. The last play on my docket: Aisle 9. This show excited me the most in many ways, but as the days up to the festival went by, I wasn't playing ball in this court. We'd already written the darn thing weeks ago and made alterations and rewrites. They were rehearsing and didn't need me for more rewrites or feedback or nothing. (Can't speak for the other two writers.) Playwriting can be an isolating experience. In this case I was fine with that. Went to one rehearsal a few days before tech and was pleased. It was baking nicely. My scene was quite different from how I'd imagined, but it was working well, so whatever. I'd envisioned it much more still and intensely focused and they'd made it looser with more travel around the stage. But it was working, so whatever. It took me seeing Aisle 9 twice at the festival to figure out why the play works; three scenes spanning a couple's life, pieced together by telling movement transitions. The action of the play happens off stage, between the scenes. The scenes themselves are ephemeral moments in-between the juicy stuff. So then why am I, and the entire audience, crying by the end? Why are we bought into this story? Is it the sheer power of the stellar performances? I've seen that before: a poorly written show made brilliant by the acting. I don't think this was that. At the closing performance I finally figured it out. By the time we get to Wayne's scene at the end, we have gotten to know these two through the other, albeit brief, windows into their lives. But the power at the end lies in a hope. Not a hope the two will get together, but a hope the two will validate each other. A hope that their time spent together will have left a vital impression on each other. This is the universality of Aisle 9, and the absolutely unique climax of this play. We all have had passionate relationships, relationships that have gone on for too many years, relationships we've given our mind, body, and soul to, and then for any of millions of reasons the relationship ends. We're left with scraps of memories stuffed into shoddy luggage and packed away as best we can and put under our beds. Wouldn't it be satisfying if when we got older those people from our past said, "You meant something to me. You helped make me who I am, and I have no regrets for it. Thank you." That's something we all want so bad, right? And that's the experience on stage that Aisle 9 gives us. Nicely done, you kluge of a show, you. On festival terms, by that point, Aisle 9 was doing well with substantial audiences, and Godot was selling out like gangbusters. Life of Brian had small but energetic houses. The rest of the festival was up and down in terms of sales. Most local shows did well, but the out of towners were hurting. This is common in large city fringe festivals that don't have a strong publicity built into the festival itself. The companies are left to their own devices. Locals have a support system, but the rest are left hoping there's a base of festival goers. This base will continue to be sparse until the fest is strong again. It will be. Oh, it will be. The closing night celebration at the Hugo House was fun. I got a "Triple Threat" award for being hard working, and Godot took the audience favorite. I got into a good debate with Grant Knutson about what defines a fringe show. We both agree it's a boot-strap minimalist show. We disagree on it's length: he says the show has to be under an hour so that theater goers have more opportunity to see more stuff in a night, and a festival can get more artists involved; I say show length never used to be a limitation and has arisen so the venues and festivals can make more money from either ticket sales or artist fees. I've always been a bit of a conspiracy theorist though. As for the Seattle Fringe... Do I have any suggestions as they continue to expand this resurrection? Well, yes, I do. First and foremost, I think the festival needs a director. The committee as it stands is made up of incredibly talented, knowledgeable, and driven individuals who run other theater companies. Their time is too split-focus. The fest needs an anchor, a person who can focus entirely on the festival. (Not me, thank you very much! It needs to be someone young and good looking and charismatic with impeccable taste in vests who wears a quirky hat once every two weeks. Ideally.) Perhaps if there's this locus individual to delegate, the schedule might get put out in a timely fashion, the web site might be up and running sooner than a week before the festival, and the posters might be up before three days before the festival. Next suggestion: hold an opening night party to bring the out of town and in town artists together, create a community, get the support networks in place, start the conversations, etc. Next suggestion, a big one: get payment to the artists quicker. Right after the festival would be nice. Especially the out of town artists. They're depending on this money. A month delay in receiving ticket sales makes me wonder if our unfortunate history might repeat itself. Is the ticket sales money going into a separate bank account? It better. This must occur, for symbolic reasons if nothing else. The fact there's a delay makes me think otherwise. If there is a separate bank account, there's no reason not to pay artists in the time it takes to run the numbers and write the checks. Next suggestion: more publicity. Plaster the town with big posters, flyers, bus ads, stranger sponsorship, etc. The city should be inundated with visuals. If Arts Crush can do it, so can Seattle Fringe. This dream media will naturally occur as as the years go on and growth occurs. Next: get a physical (printed) program with a well-designed, easy to navigate schedule. The digital world was just an excuse this year. Embrace technology by creating an app. But we still need something in our hands to make notes on, flip through on the fly as we're wandering around seeing shows. Otherwise, we can't tell what's playing when and where and we go home. As the festival grows, I look forward to a fringe hub, perhaps an artist lounge, and perhaps an open mic or cabaret for artists. I hope this isn't harsh. I'm really thankful to those who put elbow grease into raising this essential theater icon from the grave. Nice work, ya'll. It's two years on. Here's to many, many more!


40 Wondferful
Edmonton, Canada
Edmonton Fringe 16 - 25 August 2013


DANGER DANGER HIGH VOLTAGE!! We're bringing this laugh riot to Edmonton, Canada, for North America's biggest theater festival. No. Really. Have you ever been to Edmonton for the Fringe? Well, you should go. It's amazing. Click on the link above to get more skinny on the show. Don't make me tell you twice.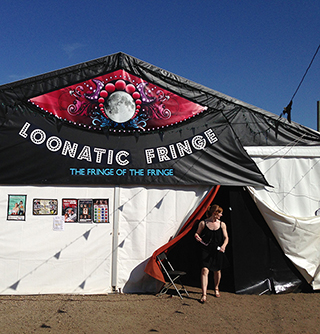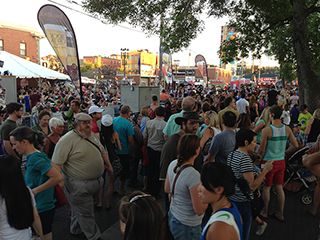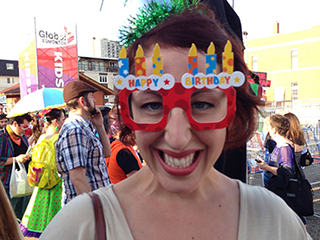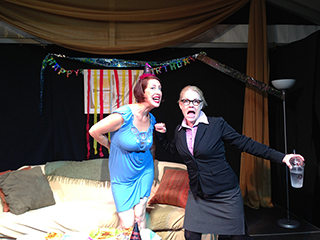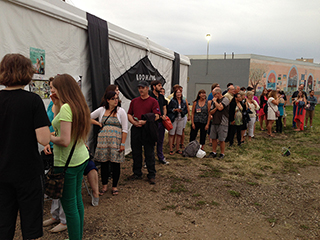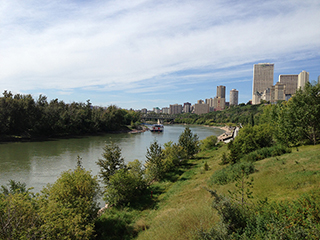 MID/POST FACTUM 30AUG13 2:00PM i'm sitting here with jeffe, and by sitting i mean he's on his computer and i on mine. we talk occasionally, mostly instigated by me. the fringe has been a fringe. there's the high time, and the low time, we're in the middling. the rules for success in bringing a show here stand true. there was no magic dream of sellouts and critical success, just pounding the pavement flyering, and discomfort performing on the raw dirt in a tent. don't get me wrong, some shows were meant to be there, but not our middle-aged comedy. so, what are my rules for a successful fringe?
1- do a re-mount or do the circuit. good press behind the show is essential.
2- a rehearsed solid show, not thrown together at the last minute, or workshopped on the fringe.
3- a good venue near the hub.
4- a show with a clear marketing hook -- in the title, in the reputation of touring for years, etc.
5- a simple marketing image. (not as important)
we knew these rules. we broke not one, but all these rules. and we're doing fine comparatively. audiences range from embarrassingly small to substantial. we're deserving and lucky for the latter. we are cursed, however, i believe because jeffe pointed out that i put my hat on my bed and that's bad luck. i don't believe in such things, no one believes in such things, but when an uncanny turd falls on every show, you've got to suspect foul celestial influence. from the AC unit going out, to the power going out, to a student protest outside the tent, to a helicopter hovering directly above the tent, every show was shat upon by the gods. It was insane and funny.
we arrived on tuesday, august 13, after a marvelous two days of traveling. (we stayed at a resort with a water park the night before, and took the afternoon to soak in the healing waters of radium hot springs mid-day. lovely) we hit the ground running -- postering and flyering. the amazing liz, assistant to the festival director and person whom i was billieted with jeffe, found us a couch right off the bat. we spent wednesday roaming the thrift stores in town for the remainder of set and props. exhausting, but successful. we had dinner at our favorite restaurant, the pourhouse and plotted the takeover of the fringe. problem was, the fringe had changed. hundreds of bring your own venues made my eyes blur, the number of shows to wade through, and all over town. and now all tickets were purchased online, making the central box office obsolete. where would i flyer? the lines were still the best bet, but it wasn't easy to find which shows were sold out. nuts. welcome to the edinburgh of north america. a monster that ripped out my gut and devoured it right in front of my face. but my heart and soul were in tact. . . the most wonderful change to the fest since my day was the passwords. any artist could see pretty much any show for free. gone were the days of haggling for a ticket, or spending all your profit (or loss) on tickets. i was in heaven seeing three or four shows a day. it took a while to find the good stuff; the star system and reviews were inaccurate, pathetic. but around mid-way through the festival rumor was solid. word of good shows was spreading like wild fire. the best in my opinion were Countries Shaped Like Stars, Legend of White Woman Creek, You Killed Hamlet, and of course Jakes Gift. Just marvelous. but back to logistics: liz let me borrow her bike, so i had transport, and the ride through the park every morning and night, sometimes a bit drunkenly, was lovely. kiera knew everyone, so i was getting introduced to her old pals. and i made some new pals as well. on our first night we hit the billeting party, where i was told i couldn't have a beer because i wasn't on the billeted list. that didn't stop me. i ran the course of introducing myself to everyone in sight -- the eighteen twitching cheerleaders girls from toronto became fast tour friends. love those gals. met several folks from portland and a group from seattle i'd never heard of. that always happens. good folk. the next day genna joined kiera and terri and i at a restaurant. a lovely gal who turns out i met ten years ago when she was stage managing the weird sisters while i was touring my solo work. small world. oh, i could go on and on, such grand theater people. creators and performers, these are my true blood. another highlight of the tour was the escapes from theater. jeff invited me to perform at "turkey shoot", sort of a mystery science theater 3000 meets rocky horror thing at this old art deco movie theater. octopussy, the single worst bond movie ever, was the fodder. despite years away from improv, i had some good moments. jeff and his compatriot, a knowledgeable brit whose name escapes me, held the floor and made me look good. the second non-fringe thing i did was attend nerd night. awesome. presentations on space weather (i saw my first northern lights on this trip!), monsters in the media throughout history, and the psychology of magic. but the fringe was the locus experience -- the crowds, the daily intake of indian samosas from the stand outside our venue, the beer tent, running into zany-hiped terri and keira acting drunk in their birthday candle glasses, dressing in the sweltering back tent on the dirt, drinking with fringe artists in the dive bar, steel wheels. . .


LaRae Lobdell
Photography Exhibit
ACT Theatre

Last year I had the honor of being shot by this bloody phenomenal photographer as part of her project to document theater artists in Seattle. She's showing all the work form this endeavor at ACT Theater right now. There's some really lovely stuff. Check it out.


The Coffee Table
Web Series
Scotto Moore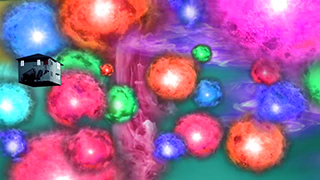 A new sci-fi comedy web series: fifteen short episodes with a premise that is very much Doctor Who meets The Greatest American Hero. A family discovers that their new coffee table is actually an ancient alien artifact, and they inadvertently activate it, sending their entire house hurtling through the void -- with them inside it, of course. The show centers on their struggle to get home with no understanding of how the artifact actually works, while defending themselves from various aliens who ring the doorbell looking to take the coffee table off their hands.


Sandbox Radio 9
Seattle & Podcast
West of Lenin 29 July 2013


The ninth installment of this wildly popular live show recorded for podcast. One night only! New audio plays by Scot Augustson, Paul Mullin, Vincent Delaney, and Wayne Rawley. Plus music by Jose Gonzales, classic and new poetry, and more. I'm so satisfied to be voicing again, can't believe it's been two years since the last time.


14/48 Kamikaze
Seattle, WA
Erickson Theatre 21 - 22 June 2013
The luck of the draw will determine my fate: a writer or a director or an actor or a musician! Guess which scares me the most?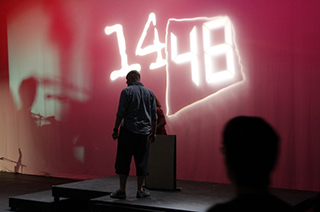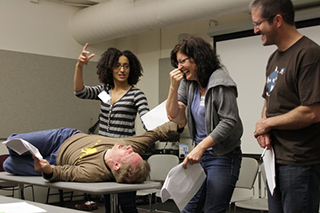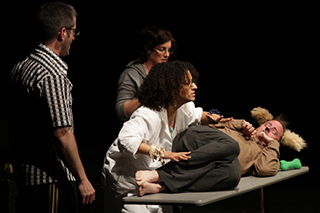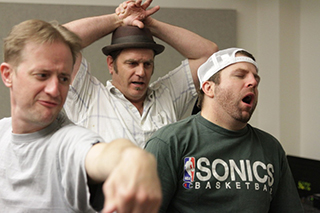 POST FACTUM 24JUN13 2:00PM I'm not one for nostalgia, though it's bound to creep in with age. That's a notch on the life card, right? Scouring the 14/48 web site program archives to find out when I last acted in one of these theater-crack weekends . . . Nine years. The festival at that time was located in its original venue, Consolidated Works. My oldest daughter, Bronte, was acting as well with Shawn and Jena's daughter Zoe, the first and only time as far as I know they let kids be in the fest. Zoe this year graduated from university and drew writing at Kamikaze! Her plays were wonderful -- poetic and funny, solid characters and arcs and deep heart. In fact all the plays were wonderful, surprise surprise. A solid evening of entertainment, challenge, and camaraderie. I heard rumor last year's Kamikaze was less cohesive, less supportive of the virgins who were being thrown into the volcano. I don't know if that's true, I wasn't there. But I do know this year it definitely was not the case. Three virgin playwrights, four virgin musicians in the band, two virgin designers. Let me tell you, they were phenomenal! Oh, and the rest of us old whores did okay too. For my part, The week before the festival was pretty calm. Steady nerves and calm mind. Slept well. And then about two hours before the Thursday night meeting when my fate would be pulled random from the cone of destiny, suddenly a shock surged through the veins. It was like a good friend was about to punch me. The committee ran a good ramp-up meeting that night. We watched the freshly pressed documentary on the festival by Anthony Winkler. We sat around in a huge circle on stage and Shawn and PDO'C and Meghan led us through a "best thing about" and "worst thing about" the disciplines to get us all in the mode, and wrapping us into the group mind. And then the draw... Tense. Release. Tense. Release. The virgins got huge applause. The non-virgins, not so much. (But I think there was an unconscious satisfaction to know the stalwarts were present to anchor the disciplines.) Oh, and I got acting, in case you didn't guess. So I had a beer. The next morning, I had coffee and a donut. My name was the FIRST pulled! (The first time that's happened.) I was to be in a show by virgin writer Ashely Bagwell, Horten's Last Leg, directed by virgin director Lyam White. It was a really wonderful piece with zany hysterics and a sincerely touching ending. I played a dog having a stroke, taken to a vet, and put to sleep. It was lovely spending the day being carried and cared for by three generous, dynamic actors. Colleen Robertson, my caring slob of a master; Tim Moore, the stoner neighbor-helper with brain/mouth issues; and Allison Strickland, the rasta-hippy, esoteric, sniffing and singing veterinarian. Nice way to spend the day, making each other laugh like crazy. (Except for all the rug burns on my wrists and knuckles and ankles from dragging myself along the floor with one paw.) At the end of the eight o'clock show, the audience's sobs and awes as the euthinzation shot was given, led into clapping with the band as the dog rose to heaven. I, as said dog, joined the clapping and canine-danced up on the table. That makes four dogs I've played in 14/48. The first shih tzu. Next day was very interesting. Again I was to be in the first show of the night. (There's always one uncanny consistent in the festival -- same director both nights, same playwright, same co-actor, this time same order in the evening.) Today would prove to be one of those jarring 'what the hell experiences' with a huge payoff. Dawson Nichols'. . . play, An Unquiet Mind, with Susanna Burney directing. By play, I mean, outline. Very solid and specific outline, but an outline none the less. Dialogue only for the protagonist, a man in the midst of an existential dilemma. All the objects and humans surrounding him are demandingly vociferous, often acerbic, and psychologically damaging. (Beat.) As actors, we have certain expectations. Things we can psychologically prepare for. When those aren't met, there's a level of, well, mutiny that can occur. So here we are, the actors, getting this outline of a script, knowing that we're going to be improvising all day, playing a dozen characters, do physical stage pictures, without the solid base of normally expect dialogue . . . and we kind of freaked. Not angry, not a true mutiny, but definitely negative. Now, Dawson is a genius in my opinion. I've followed his solo work, his writing at 14/48 and out, his career in general, a huge fan even before getting to know him earlier this year and plotting collaboration in the near future. So I was trusting, we all were, to a certain extent. but there were large grumblings. He is after all experimental to a fault. And that's scary when you're exhausted and full of expectations of normality. Thanks to Susanna's positive and gently forceful guidance -- honestly, if it weren't for her, and I mean her specifically, we'd have submerged into frothy panic -- by noon we were swimming along, having a blast, cracking each other up, and feeling the inkling of a question of a possibility that we may have a pretty nice piece on our hands. For me, my perception of the show and of the day was the most off-kilter ever. I had no idea what was going on, how the show looked, how I was doing, etc. Perfect example of this out-of-body nature of the day... our first run of the show felt like two minutes long. We all came out of it saying to each other, shit we need to fill in this baby, it's like... two minutes long! Well, it was actually over nine minutes long! I guess that really sums up day to for me: Felt like two. Was in fact nine. It was a staggering shock, the flood of post show congratulations. They always happen (well, most of the time), but this was a glow in folks' eyes and emails, not just Facebooks, but emails! Takes an extra step to get those compliments. So thanks, Dawson and Susanna, you experimental bastards you, for giving big and not going home. Awesome photos courtesy of Dangerpants Photography.


Qickkies 14
Seattle, WA
Theater Off Jackson 7 - 15 June 2013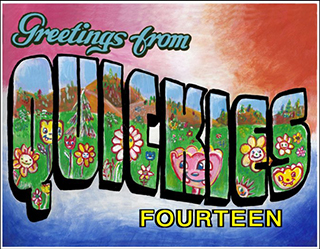 I'm directing the bizarre little play that packs a punch I Am The Girl With The Spun Gold Hair by Jennifer Lane, with Raymond Williams and Allie Pratt.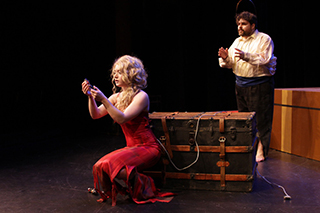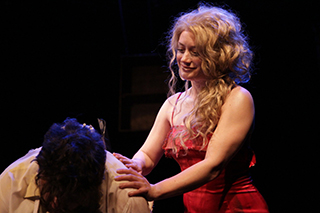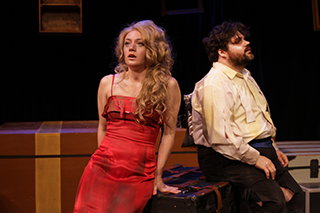 MID FACTUM 8JUN13 12:00PM (Spoiler Warning) Right as we rolled into tech week I wondered to myself if my process as a director might be counterproductive to actors. In other words, I thought I might have made a shitty choice as to how to approach this play. When we first began rehearsing, after table work and loose blocking, and examining the rhythms of the dialog, I had Raymond and Allie do runs of the play with different qualities -- do it like you hate each other, do it like she wants to kill him, do it like you're robots without emotion, etc. Then I'd have them do runs where I'd give them secrets about each other, like he knows she's the girl with the spun gold hair, and he's pretending not to know in order to punish her for that time when she lost hope. Stuff like that. These were really fun rehearsals, really fun runs, and there were a lot of juicy moments discovered. But then came time to shuffle all those juicy moments into the whole... and... it sort of fell into a melodramatic morass with a plodding pace, and most of those juicy discoveries either didn't work or felt forced. Then tech week hit us. We strove to create a veneer of endearment and hope on top, and at times I'm sure Allie and Ray were thinking, why did we go through all that, now I'm just back to playing my first instinct, the thing I was playing right off the bat? We drilled the rhythms. It's a play with beats of tight dialogue interrupted by open spans of sustained pregnant pauses. We drilled and drilled. We went back to overarching motivations, back to basics. And then, right at the last dress, the magic happened. It all came together. (As it does, I guess.) It was glorious! Allie and Raymond have created characters that have a deep, established love that is hate that is love that is hate that is love. They tenderly care while at the same time have a deep desire to run away. It's deep and complex and funny and not funny at all. The last two pages are a challenge. Tails has an urgent download of information and memory when she plugs into Tock. It's a beautiful shock to witness. (People were welling up with tears in the audience opening night!) The moment right after this flood is active and evocative, but then things start to re-set to the pattern. It's a looping play. It ends at the beginning, an endless cycle forever in the apocalypse. So, here we are with a page and a half to go, and things start to kind of ramp down into the realization of the pattern. Or it could cycle down, but the thing about hope is, it's hope. Right? It's gotta be there. The possibility that things could get better. And then Tock says "Love." And that's the word. That's the word that hasn't been spoken for as long as either of them can remember. (At least that's my take on it.) And suddenly they have a reason to propel them onward in the search for power. Of course, Tock throws her cord at her in frustration and dispels the moment, but it's too late to ruin hope by that point. Beautifully complex. Allie and Raymond are stellar. Boy, it's just hysterical and heartbreaking. I love this twilight zone, sci-fi play. Thank you Jenny Lane. I wish you could see it. I think you'd be satisfied.


Forty Wonderful
Portland, OR
Post Five Theatre 24-25 May 2013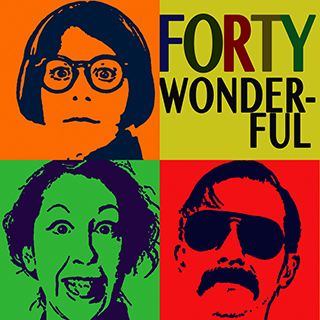 SURPRISE! It's Janine's Birthday and her friend Mallory throws a surprise party where none of the guests show up. Laugh out loud three hander from Seattle's favorite funny people Keira McDonald, K .Brian Neel and Terri Wegeant. Canadian playwright Jayson McDonald's breakout hit. This fast-paced, punch line laden play tells the story of two friends. It's Janine's 41st birthday and her friend Mallory throws a surprise party for her where none of the guests show up except for an officer of the law (wink,wink). . . Hilarity ensues. . . DANGER: This play contains high octane punch, A sex pinata and some dance moves that may be inappropriate for chickens.


POST FACTUM 1JUN13 10:00AM Portland is the most lovely city. It's a daintier Seattle that didn't tear down all its cool old buildings, and has been helmed over the years by city planners with a vision instead of developers with a checkbook. Seattle is the stiff-shirted, cheaply overdressed cousin of this laid back, underdog city. Portland is populated with the most heartfelt and hearty folk. Everyone is so friendly and mellow. Sure, the stereotypes are somewhat true, but they know that and laugh right with us. Post Five theater was a most generous and dynamic host. (Thank you Ty, Cassandra, Ithaca, Chris, Winston, Phillip, James, Sarah, Eleanor, Mariel, and everyone.) We felt right at home in the theater which was located in a block-square arts lofts complex, at our disposal all weekend. We arrived, set up, rehearsed, ate, rehearsed, performed, partied, slept, ate, slept, rehearsed, performed again, karaoked, slept, ate, and drove home. Whew! The show was all we expected -- highlarious! The weekend was about feeling out the laugh beats in front of a live audience. We learned what needs to be answered, and affirmed that our chemistry is combustable -- like cinnamon and napalm. Kiera and Terri have a statistically high -- off the chart, really -- percentage of laugh to text ratio, fully optimizing Jayson's one-laugh-per-millisecond script. It's unnatural, really. Can't wait to don Officer Stetson's rip-away pants again in the fall, when we do a full run in this stiff-shirted, cheaply overdressed town. When that happens, I'm gonna shave my legs again. It's the male stripper thing to do, even though Kiera says hairy legs would be funnier.


The Death of Brian
Orlando, FL
Orlando Fringe Festival 15-29 May 2013


Let me nip this misunderstanding in the bud: the title does not reference me. Different Brian. Character named Brian. Zombie character named Brian. Got it? Coo. I'm directing this Epic One-Man Zombie Show scribed and performed by Ricky Coates. "After an accident, Brian S. awakens with a taste for flesh and a high tolerance for pain. His normal life in shambles, he struggles for survival in a quest to reunite with his wife. Ricky Coates sticks dark humor, grotesque puppets, and lots of blood in the blender, wondering what it means to be human." No insult to Ricky's great talent and dynamic script, but the real star of the show is the incredible soundscape (music, scoring, voice-overs galore) by Dan Yost. Very Romero.


Jesus Christ Ukulele Star
Seattle
The Beehive Good Friday - 29 March 2013 - 8pm


This once a year vanity blowout is back for a second run. Two ukuleles. Two voices. (And audience chorus!) Two amps! History continues. Bring your own beer or water turned into wine. We DO know how to love him -- Sanna Sanna Ho Sanna Hey Superstar! (Details: the entire score of Jesus Christ Superstar performed on Ukulele! This year it'll be an intimate house concert at the Beehive in Seattle's Phinnywood neighborhood. Free.)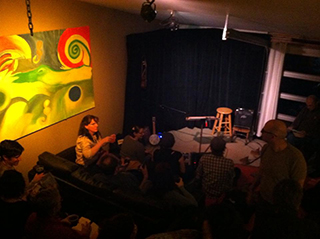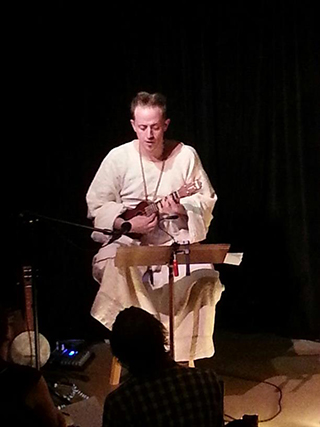 POST FACTUM 22 APR 13 10:30AM From Facebook PostPost: I'm still reeling from the imprinted memories of last night -- the mellifluous audience choruses, especially the somber Judas chorals (thanks Joe Zavadil for consulting on the hymnal books); Meghan Arnette's jaw-dropping version of I Don't Know How To Love Him accompanied by me on David Gassner's banjolele; and Scotto Moore's searing Judas rant has started a tradition. The Beehive was filled to the gills. NEXT YEAR will be even more glorious..


Mime Shop
Central Washington University
Seattle Mime Theater 1 April 2013
POST FACTUM 3APR13 1:30AM Great audience this time around, and Rick was in good form. The improv had something to do with a fisherman who bore a striking vocal resemblance to Bluebottle from the Goon Show, and ended with a stripper pole.


Young Playwrights Festival
Seattle
ACT Theatre 7-9 Mar 2012
POST FACTUM 10APR13 12:00PM In the flurry of activity last winter and fall I forgot to report on my playwriting classes this year. I taught at Lakeside again and for the first time at Ballard High School. Believe me, I do not take for granted Lakeside. It's a dream place to teach. The students are bright and driven and insightful. Though the entire cadre of plays written this year would make a fine anthology, the work selected this year was as follows: Stripes by Clara Scudder-Davis, produced by Seattle Playwrights Collective; Project DAC001 by Isabella Gutierrez, produced by ACT; A Workless Progress by Langston Guettinger, produced by Dukesbay Productions; We Are Young by Sophia Wood, produced by Seattle Playwrights Collective. Bainbridge High was a slow burner, but rose to the occasion by the end. It was a very large class, I met with them once a week, and it was populated by a diversely-interested population. It was hard to gage how they were taking to the exercises, but by the time we'd dived into the final plays, they were in like flynn, and some very strong work came out of it. Final selections as follows: Under the Apple Tree by Jonathan Catterfeld, produced by Annex Theatre; Destinations by Rowan Lanning , produced by ACT. Insert proud smile here!


North Star Vaud
Seattle
Stage One Theater Feb 21- Mar 10, 2013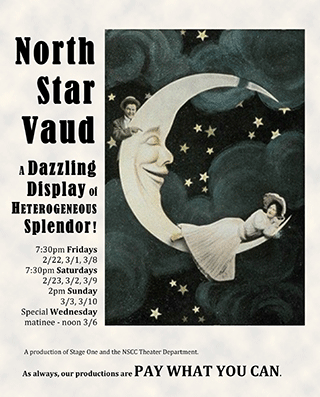 I'm spear-heading (directing) this new-timey variety show, which will gather talent and material both historical and contemporary.
FROM THE DIRECTOR'S NOTES: If you lived in America in the early 1900s and were looking to be entertained, chances are you'd slide into a Vaudeville show. Unless you had the inklings and money to see legitimate Broadway or opera, or were drawn to the more risque and ribald burlesque, you'd make your way to one of the thousands of theatrical palaces every city and town in this country built solely for variety. It was entertainment pure and simple. Over the course of two hours the bill of nine to fourteen unrelated acts would consist of comedians and dancers, lecturers and baseball stars, magicians and blackface performers, short plays and excerpts from Shakespeare, acrobats and dog n' pony acts... anything and everything under the moon that could be packaged into eight-minutes.
The Marx Brothers got their start in Vaudeville. So did Charlie Chaplin. So did Bob Hope (early on he danced with conjoined twins). Buster Keaton began in vaude when he was just two years old being literally thrown around the stage by his father in their family act. W. C. Fields, George Burns and Gracie Allen, Ed Sullivan... the list goes on.
And then there were the less-remembered performers: There was "Sober Sue -- you can't make her laugh". There was "Hadji Ali -- The great regurgitator." There were "The Bowser Sisters -- Fresh Flowers" (They'd pose as flowers and make wind and bird sounds). This list goes on and on.
For a vaudeville artist, life was on the road. Performing in New York one week, then riding the rails up and down the east coast for fifteen weeks on the Keith and Orpheum circuit. Then perhaps hitting the Lowes circuit across the midwest, playing two shows per town per night for twenty weeks. Then down the west coast on the Pantagous circuit, that would be 30 weeks. Performers had a lot of time to perfect their schtick, and most kept the same act for years on end.
Seattle around the 1920s ranked second only to New York in terms of number of Vaudeville theaters, and number of big-time, big-pay acts on the bill. At its peak, there were upwards of thirty theaters running in this town: The Crystal Palace at the corner of Second and Seneca, The Orpheum at 5th and Stewart, another Orpeheum at 3rd and Madison, The Pantages at 3rd and University, The Empress at 2nd and Spring, The Palace Hip (Hippodrome) also at 2nd and Spring, and more. Some structures still survive -- the 5th Avenue, The Moore, The Paramount, The Coliseum (now a Bananna Republic), and the Nippon Kan -- but most have been razed to the ground to make way for, well, in some cases, parking lots.
What happened to this golden age of variety? Why don't we see more of this kind of performance around today, and hear more about it's history? Because it's entertainment. It's ephemeral. It is needed only in the moment, and for the artists and producers it is survival of the entertainment fittest. Vaudeville became movies and radio, then television, and now YouTube (the most Vaudeville of them all!).
But this ain't no cold dead screen...
This is another Seattle theater treasure of yore (and not-so-yore): North Star Vaud. It's not on any Vaudeville circuit you'll find on any map, but the acts here are no applesauce. Who knows what's on the bill? (Who knows if the theater will even be standing by the end of the show?) No matter what happens, we promise you the best in clean(ish) boffo variety entertainment. This ain't no borscht belt, ladies and gentlemen. Get ready for the terp teams, the tab show, the hoofers, the patters, and the stooges. Unbutton your collars, uncuff your hands, get ready to make hand to hand music. We're gonna knock you bowlegged!





Chaotic Noise Fuck Yeah Fundraiser
Seattle
Underground Events Center 23 February 2013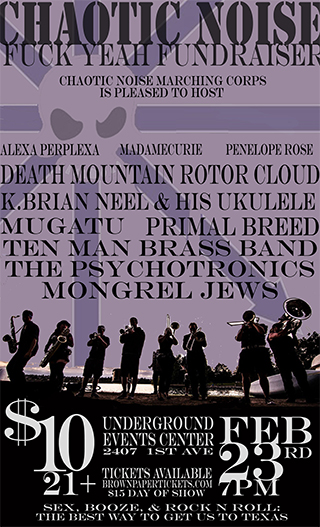 Sex, booze, and Rock N Roll. (Ukulele!)


The Listener
Vancouver, BC
Magic Circle Mime 10 February 2013
I'm just learning this show. Hopefully, I'll be performing in it soon. These are shots of the Orpheum Theatre, the Vancouver Symphony venue, and Doug and Maggie, the artistic directors of the company.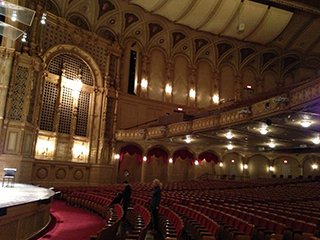 Music Noise & Silence
Kansas City
Magic Circle Mime 27 January 2013
Bring on da noise!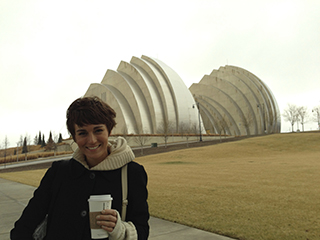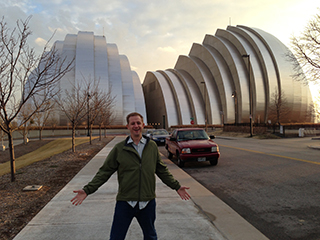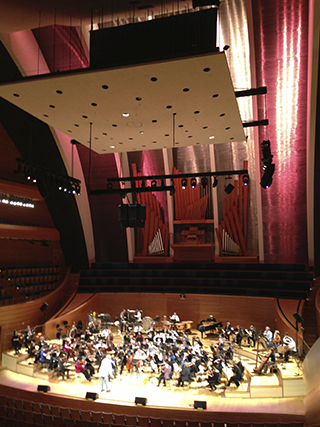 Mime Shop
Central Washington University
Seattle Mime Theater 7 - 8 January 2013 POST FACTUM 05 JAN 13 10:30AM In the improvs I got a really great massage from the student movement chorus on the first night, I mean, they really went to town. The second night I played a tentacled sea creature the becomes a beach starlet.




Footlight Award
I received an Outstanding Acting award, along with Aimée Bruneau, for our work in 99 Layoffs. The show also received playwriting and producing awards!




Vaud Rats
Seattle
Stage One Theater Jan 4, 2013
Cecil B. DeUkulele is on the boards again for another wow finish!
POST FACTUM 05 JAN 13 10:30AM What a wonderful evening! My new pants and braces (suspenders) kept messing with my hand hold of the uke, but otherwise a very popping performance, imho. Reid and Mert in particular were bright, maybe the best they've ever been, imho. Wonderful theater with great acoustics and sight lines. Great to see so many familiar faces in the audience (V.R.'s cult following of repeat offenders), and so many new rats, all giving a great energy. Thanks much, y'all. Highlights for me: sitting in the audience before Madame Flora, and pulling booze out of the trash can. Those are keepers.