2 0 1 2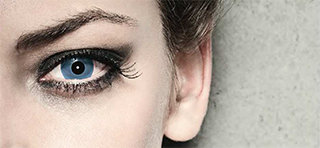 Circumbendibus
Seattle
Book-It Repertory Theatre Dec 28-29, 2012
Geek lit on stage: Black Box by Jennifer Egan; Instructions by Neil Gaiman; The Lifecycle of Software Objects by Ted Chiang; and The Unwritten by Mike Carey. This Book-It Style literary mash-up is adapted/curated by Samara Lerman and David Goldstein; Andy Jensen directs. Book-It is proud to collaborate with musical partner Bushwick Book Club, a group who transforms their favorite books into songs. At the Erickson Theatre on Capitol Hill.
POST FACTUM 03 JAN 13 1:30PM I got to play an artificial intelligence that grows to adolescence, a father with the weight of the world on his shoulders, Captain Ahab, Baron Von Munchausen, and a dancer. Juicy!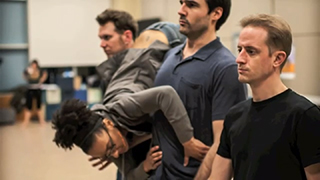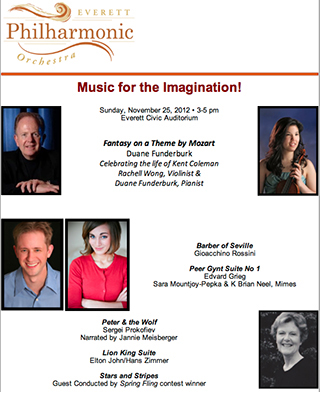 Peer Gynt
Everett, WA
Everett Philharmonic Nov 25, 2012
Sara Mountjoy-Pepka had the idea of a daughter (Sara Starchy) harnessed in one of those leashes, reigned in by her emotionally distant father (Mr. Starchy) on the other end of the leash. So we crafted a mime piece to Edvard Grieg's Peer Gynt suite: Movement 1 - "Morning Mood" Sara and Mr. Starchy enjoy the music. Sara gets swept away by the music and tries to hug her father in thanks. He halts her -- it's not appropriate in the concert setting. Sara continues to feel the pull of the music. She conducts. Mr. Starchy stops her. Mr. Starchy eventually falls asleep. Movement 2 - "The Death of Ase" Sara pulls the sleeping Mr. Starchy into a dream sequence of what she wishes their relationship was like -- a lyrical montage of father/daughter activities. Eventually she looses control of her dream father and he shirks her. At the end, they're seated, in the same position as at the top of the scene. Sara notices her baton... Movement 3 - "Anitra's Dance" Sara goes for the baton. She moves forward, but finds herself still attached to Mr. Starchy by the harness. So she pulls him, and his chair, across the stage in order to reach her prize. At the end of the piece, she finally grabs the baton! Movement 4 - "In the Hall of the Mountain King" Mr. Starchy wakes up. A chase between two people attached to each other ensues. Eventually, the baton snaps in half accidentally and Sara is devastated. Mr. Starchy brings Sara in for a hug -- the thing she wanted all along -- she is happy once again.




A Mouse Who Knows Me
Seattle
Annex Theatre Oct 19 - Nov 17, 2012
A world premiere science fiction musical comedy with book & lyrics by Scotto Moore (Duel of the Linguist Mages), music by Robertson Witmer (of the band "Awesome"), and directed by Kristina Sutherland (artistic director of Macha Monkey Productions). In a genetics lab that is inserting human genes into mice to see what might happen, Dr. Audrey Whitman starts to believe that one of her mice has developed human empathy and intelligence and develops a strange relationship with the mouse she christens Romeo, to the chagrin of her colleagues in the lab. Her mentor secretly plots to use her intelligent mouse to breed a new form of war machine -- but neither realize that the mice in the lab have their own plans for bloody revolution. It's an inter-species West Side Story!


POST FACTUM 03 DEC 12 10:30AMIt's easier to write about small projects than large ones. This show as a year and a half in the making, over two chunky workshops, an extended rehearsal period, two full weeks and weekends of tech, and still it felt like there wasn't enough time to get this mammoth dream-weaving project on its singing and dancing feet. The cast, up til performances, felt estranged from each other. Considering how much time we were spending together, we sure didn't know each other. Second weekend, before the first show Allison Standly was to perform the lead woman's role (Sara was in Chicago performing a new show with the CSO), in the dressing room I turned to her and said, "Who are you? We're about to go on stage together and I don't know a thing about you." She allowed me three questions, but she really couldn't be bothered since she was about to go on stage as lead in a show for the first time. My questions weren't very dynamic, but it was a start. And it was backstage in the dressing rooms that we got to know each other. It's always the case, really. That's the point in any show you find out the real litmus on how fun the weeks are going to be. And it's at the end of the run, when everyone's looking around and sincerely talking about how much we're going to miss each other. That's a good run. Amanda Lee Williams is as hysterically funny backstage as she is on. So is Lissa Bak, in a more acerbic, biting way. Both of them, IMHO, stole the show. Josh Hartvigson is not evil. He's well-intentioned, I swear. Juicy to finally get to be on stage with him after seeing him in so many dynamic shows this past couple years. And good to get to know Leilani Berinobis and Tadd Morgan, the former of whom has more balls than most men, and is afraid of noth...ing! John McKenna, the perpetual stalwart figure in the black easy chair in the corner. Just when you'd let go awareness of his presence, that would be the time he'd blurt out a pithy, super-intelligent insertion into the conversation. All held together by the lovely and stiff stage management hand of Katie McKellar. (Katie, I gotta pee.) Oh, and the puppet. Romeo. Wow. I cannot tell you how interesting it was learning to puppeteer. Honestly, I hated it at first. I did not want to be upstaged by some rag thing on my hand. Paul Velasquez showed me the ropes. Honestly, it was much harder than, well, I didn't really expect anything, but suffice to say it was bloody challenging operating a puppet (it operated me, really). Add to that singing and dancing. Freekin' mind fuck. Paul was inspiring and the best teacher of any kind I've had in a long time. Now, I must say, I really miss Romeo. A part of me is missing. Had enough of my gushing? Okay, then let's get to the substance, the base, the flesh of the show, Scotto Moore and Rob Witmer, book and music folk.... Well, gush, gush, uh, gush gush. Well, you saw the show, so I don't have to tell you. Though some of the reviews said there were too many songs. "You can't have that much music in a musical," they said. To which I respond, "Ever seen Sondheim? Ever seen a three hour musical on Broadway?" Even if the show tested the patience of the audience, the fact there were so many repeat audience members proved there was something done right. I miss singing those songs -- my elvis number, my do-wop number, my crooner, those two songs that were cut after the last workshop. I miss the drum roll on Romeo's entrance, lights going up on me with that sweet sequined cape. I miss saying all the juicy laugh lines that Scotto gave me. I miss being on stage, watching all the mouse songs I wasn't singing. (Honestly.) I miss the eyes of all my fellow actors, those connections made during scenes. It's the soul of the juice on stage. Awash in it, baby. Good times. From this actor's end, it was a nice challenge. I let go of attempts to brashly craft a character, as I'd done in 99 Layoffs. Here, less was so much more. It's a musical, that's the more. So Roland could be relaxed and confident and subtle, Romeo should just be relaxed in a bigger way and fun. I was basically playing myself, which was more of a challenge for me than anyone could know. I'm accustomed to hiding behind the craft. Just sing the songs, let them guide me. I was finally pleased with my singing on the last weekend, by the way. (Why peak early?) Still too much rosy gush-ville for you? Want some bitching? Okay, I got some bitching. I feel like the biggest flaw in the production was communication. There were so many times in rehearsal when I just didn't get the memo on changes to staging, to choreography, to music, to logistics, to whatever. I think it was just such a huge project, everyone was overwhelmed and juggling chainsaws and lint. When a theater is pushing its limits like never before with a project more than twice the size of any in its history, one that would become a box-office smash selling more tickets than any in its history, it's going to feel a little like everyone's stepping on everyone else's feet. At the same time... everyone was stepping on everyone else's feet! Stepping on MY feet! When you're focusing on your job, in the middle of it, it's painful and offensive. I wasn't necessarily aware of others feeling the offense too. In retrospect, I think we're all feeling like mothers having just given birth. It was hell. We did it. Look at that beautiful baby.




A Bit of Bad Luck
Film
Opening 2013
Cast as Fran the mechanic in this film out of L.A.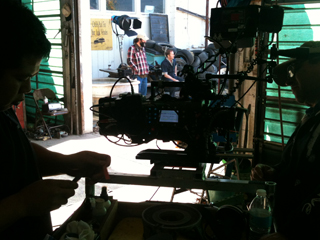 MID FACTUM 4 OCT 12 5:30PMlong drive to morton, wa, onto elbe, wa, where they were finishing up shooting at the gas station there. had a costume fitting (i like the medium cover all, but they're gonna put me in the large since they already distressed that one); filled out paperwork. now i'm in the hotel room in morton, chilling until dinner at seven. everyone is, of course very nice and welcoming. they've got the system down. i'm looking at my call sheet for tomorrow with bemusement and weighted breath. weighted breath because my call is six am. early. ug. bemusement because i'm really not sure what most of these code numbers and letters mean. i know more than i did last time I saw one of these, but less than everyone here. haven't embarrassed myself just yet. i'm masking my ignorant questions pretty well. sitting the hotel, okay it's a motel, room now. the mountains are gorgeous. the view from the window is a back yard of a house, which makes me feel odd. am i worried? not really. i'm concerned. i know my lines, but from past experience, that doesn't mean much. i've gone blank at times. i hear cary elwes is a very friendly, generous actor and that the director/writer, john fuhrman, is flexible. dinner at seven is at a restaurant a few blocks away. stefan hajek is the actor i'm partnered with through tomorrow. we're going to head down early and walk around town. i got an hour nap on the drive, but i'm still pretty spent. i know i'll not sleep well tonight though, so i must psychologically prepare myself for it. piece of pie. i've done more on worse. now that's psyching myself out!
POST FACTUM 15 OCT 12 5:30PMthe shooting was a week ago. dove right into tech with Mouse, i haven't had a chance to process it all. every time i do a film, i want more. not just the food and kraft services which was stellar as usual. they'd bought out this local all-natural restaurant. describing the meals wouldn't do justice -- bacon wrapped mini quiches, amazing salads and soups, ice cream floats for desert, and on and on. but that's only the cherry on top. i love the subtle precision and accuracy. for a bit of bad luck, the shooting was smooth and friendly and well-oiled. the night before shooting, stefan and i had many questions about the tone of the film and our characters. after dinner we headed to the the bucksnort pub, which soon filled with cast and crew. amazing seattle actor, brandon whitehead, who had already been shooting five days, cast as the drunk, explained that the style was black comedy, which alleviated a lot of tension for me. the script read to me pretty strait drama, but was a little too out there to fly in my opinion. such relief to find they were enjoying stretching the humor but keeping the dark tone. stefan and i loosely plotted some ideas in injecting our scene with subtle physicalization. brandon brought cary over and introduced him to us. cary was great -- jovial, cracking jokes. brendon and he had hit it off really well. cary complimented the seattle actors, saying originally they wanted to cast from L.A., but found such great talent from seattle. they were continually amazed. yeah, us. the next morning, bright and early, we were driven two blocks from the hotel to the garage location, and set right into blocking rehearsal. frankly, it was a blur. there was little discussion. i stood next to stefan and that was it, no trying different positions, just went to town with the first instinct. then breakfast, then costume, then makeup (sitting next to cary, joking and chatting, what a great guy. i have hair envy.) then back to set for the wide shots, the medium shots, the closeups on cary, the closeups on stefan and i. it was bloody cold, by the way. coats went on and off with the action and cuts. then they set up a complex round track shot, that went so magically smooth. the camera panned from behind us to in front as we gave directions and hand signals to cary's character walking off in the distance, then the camera panned around front to show us synchronously waving and dropping our smiles and another character joining the scene. now that i think about it, i'm pretty shocked and amazed we pulled it off in only a few takes. after that i was done filming, but they let me hang out, watch the magic for rest of the day. brontë wanted details on the camera and logistics.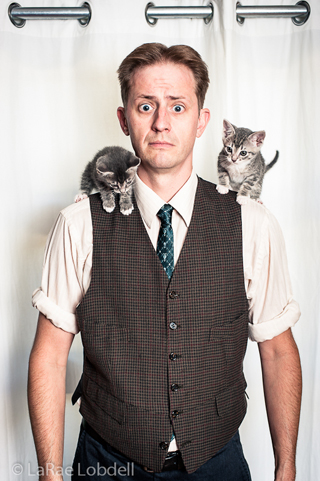 14/48 Festival
Seattle
Seattle Center 7-8 Sept 2012
The first outdoor version. I'm writing! Let the belly butterflies begin.
POST FACTUM 13 SEP 12 12:00PM Winning the Mazen Award at the festival this weekend was an honor, gave me lots of attention, and cost me fifty bucks. I couldn't get out of rehearsal for the Thursday night meeting, so I wasn't there for the official presentation of the award. (Apparently, there was a hero's standing ovation.) They made everyone promise to say, and also posted on the blog, that Shawn Law "might have gotten the Mazen" to keep it a surprise for me. Frankly, I had other fish to fry, to write a play overnight on the theme of "How did this happen" with four women actors. It had been an intensely sad and busy day, visiting my old friend and alum of Kings' Elephant Theater, Heather Hughes, in hospice and then rehearsing for Mouse all evening. I thought to myself, is there a more incomprehensible situation than watching a young talented mother die of cancer? So I wrote about mass suicide -- White Night -- with the image of Heather in my mind. I found humor in the absurdity, but it rests in a numb and bitter place. At five in the morning, sleeping in fits and starts, I dreamt I received the Mazen, then hazily awoke with the thought "yeah, that'll never happen." So what a surprise to be bestowed with the wood and iron and scotch-laden honor. My speech sucked because I'd gotten three and a half hours of sleep. Jake Groshong, artistic director of Balagan Theater, drew my play, and then drew actors Heather Gautschi, Amy Hill, and Danielle Daggerty. We were in the three-spot in the running order, which I love because you can do anything. It was a challenging piece to do. Jake had some great additions including a stronger ending. That evening the cast didn't back down, seizing the drama and taking their time. Yucking up a serious pieces is easy to do in 14/48 since most of the other plays in any given evening are silly and fun. Heather, Amy, and Danielle had the audience enraptured. One down. I passed out shots of Mazen scotch.


The theme drawn that night was "self help." Yech! I was to write for four men in the opening spot. Pressure on to bring the energy for the evening. Last time I wrote with Paul Shipp for the first show of the evening and we disregarded the responsibility, wrote a great piece called The Courtyard, but I'm convinced we sent the energy of the evening spiraling. I would not let my brothers and sisters down this time. Face Program was the result -- actors playing parts of the face in the control room of a seventeen year old boy going on a date. The style is somewhere between NASA and Woody Allen. Again Jake Groshong was drawn to direct, with the cast Jason Sharp, Mike Dooly, Sam Hagen, and Rob Jones. If you know any of these talented folk, you'll know this was uncannily perfect. I told them to improvise with it and make me laugh. They did. And I did. Everyone did. It was simply awesome! Usually when I see my work performed there are moments when I'm pleasantly surprised and moments when I feel the vision in my head is better than the final product. This was the first time the performance met my vision to a tee and then exceeded it. Mazen scotch all around! (That afternoon I'd bought another bottle of Glenlivet 12 to replenish dwindling supplies.)


MimeShop
Central Washington University
Seattle Mime Theatre Sep 24-25, 2012
Miming for the Intro to Theater class.


Sandbox Radio
Seattle
Bumbershoot 3 Sept 2012
From the Stranger: "Live radio-drama revival shows are almost universally dorky. I've tried to sit through those California hippies of the Firesign Theater and the Twilight Zone-flavored tales of Imagination Theater on KIXI AM radio (which are so starchy and square, it's almost adorable), but no dice.
Some Seattle theater-makers, however, have magically figured out how to borrow those dangerously dorky radio-drama techniques -- Foley sound effects, actors reading in funny voices from music stands -- and make them work. We have playwright Scot Augustson to thank, in part, since his Sgt. Rigsby and His Amazing Silhouettes project has become a cult favorite over the years for putting shadow puppets, live-radio tropes, and Augustson's filthy intelligence in a blender and mixing up some of Seattle's wittiest, dirtiest theater.
So it makes perfect sense that Augustson is one of the anchor artists of Sandbox Radio Live!, a quarterly series where quality Seattle theater people put on a live radio show in front of an audience to record for a podcast. (To name-check some favorites: Charles Leggett, Leslie Law, Paul Mullin, Annette Toutonghi, Darragh Kennan, Jose Gonzales, Sarah Harlett, and dozens more.)
The crew started performing Sandbox Radio in the summer of 2011 and has assembled a "best of SRL" for this year's Bumbershoot: a poem by Augustson read by Richard Ziman, the bump and jump of Sandbox music director Jose Gonzales on piano, the comically dark "Notes from the Workplace" written by Vincent Delaney and starring Todd Jefferson Moore, and a taste of "Markheim" -- a noirish serial by playwright Paul Mullin, inspired by a Robert Louis Stevenson story, about a world-weary angel-detective who has no love for the devil but isn't exactly thrilled with God.
Listening to the Sandbox Radio podcasts is fun and all, but the real juice is at the live shows, where you get to watch seasoned theater pros open the throttle and have some fun with new material and with each other. It's a little more polished and put together than the rattletrap-by-design 14/48 festival, but Sandbox still has that loose, raw energy of slipping around on brand-new one-off material. It feels like artists at play."


99 Layoffs
Seattle
A Contemporary Theatre August 2012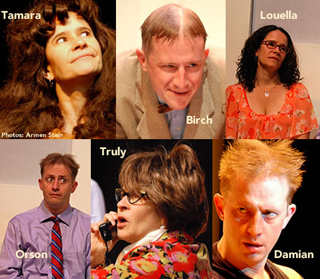 As I write this, we've just begun the bulk of rehearsals. There were three script workshops with Vince Delaney, who wrote this piece for Aimée and I. Minor tweaks and nudges and re-orderings of scenes occurred, but nothing substantial. It's an hysterical piece existing in an idiosyncratic world, not quite zany comedy, not quite realism. (Or, perhaps, both -- zany realism?) In the readings, I had trouble grasping the style. Now that we're up on our feet, i'm beginning to find what it is. And it's laughing me out, baby. We can't get through a scene without bringing each other to our knees in hysterics. This is my second time working with the astute and generous director, David Gassner. That man loves theater more than anyone I've ever met. Oh, yeah, by the way, 99 Layoffs is about two serial job seekers in an eternal spiral of employment torture. Produced by Radial Theater Project, which marries playwrights to actors. New work is created. We are the second endeavor of this groundbreaking (to the pacific northwest) organization.
MID FACTUM 20 JUL12 4:00PM Riding high in the sky right now with this show getting so many accolades from press and peers and total strangers. Two raving reviews, one in the Seattle Weekly, the other in the Seattle Times, which included my big ugly mug on the front page! The Week also featured it as a noted show nationally. The last two weekends sold out well in advance, we've added an additional show on Sunday, and there's a marvelous fashion shoot at PhotoSister. This elation comes off a treacherous opening weekend. Aimée ripped her calf muscle from the bone as she entered in scene one at the top of the Saturday show; something supposedly very rare, more common in tennis and basketball players. Hard core. We proceeded to cancel the second weekend of shows for recovery, and re-staged the more acrobatic moments for re-opening week three. Also, there were a couple sour, albeit astute, blog posts from people who liked the show less than most. (Weird how opinions can make or break something.) Audiences are loving it, laughing at the boisterousness, and emiting gutteral, sympathetic sounds at the pathetic hiring tragedies. It's a dynamic script and we're seizing it.


Xperiment In Theater
Mount Vernon, WA
Lincoln Theatre 13-17 August 2012
A full-day for five days workshop series ending in a performance for ages eight to fourteen. "A collision of acting, character improv, dance, mime and writing. Ridiculous, serious, crazy and thoughtful. Combine and expand your talents and interests with new art forms."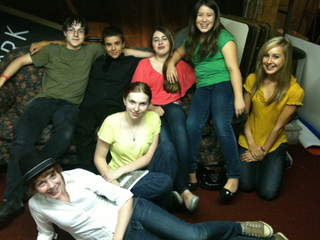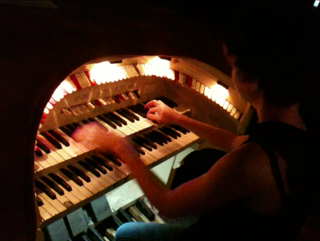 POST FACTUM 20 JUL12 4:00PM Meantime, while the "Toad's Wild Ride" of 99 Layoffs was jostling me about, I headed up to Mount Vernon to dive into experimental theater with an amazing group of seven teen agers...


Re-enactors
Seattle
Lincoln Theatre 13-16 July 2012
But what about the gay dad? No, the other gay dad. What happened to him?
POST FACTUM 16 JUL12 11:00AM Saw the screening of this mockumentary last night and laughed my behind off. My favorite parts were the ukulele serenade battle and the scenes with the militaristic cook: "You better think about what you're thinking right now because if you say what you're thinking, I think I'm going to make you regret what you're saying." Bloody hysterical! I have a smaller recurring role, with several funny moments. It was a blast being on set, filmproving with a nice group of actors I'd never met before.


The Future Remembered
PacNW
Book-It Summer 2012
Astronauts and space craft. Royalty and Cold War tension. Science and art. The Kennedys. Religion and sex. Fashion and futurist speculation. The Canadian Tattoo. Freakish weather and Belgian waffles. Elvis and his excitable fans. The 1962 Seattle World's Fair had it all. Book-It has adapted the retrospective photo book, The Future Remembered, that recalls the formal and the funky, the weird and the wonderful event that put Seattle on the national map: the 1962 World's Fair. I play Yuri Gagarin, Elvis, JFK, and so much more. A really fantastic staged reading with multimedia.


A Mouse Who Knows Me Workshop
Seattle
Richard Hugo House 14 July 2012
There is no love in laboratories. Unless it's between the research facility's youngest postdoc and her super-intellegent mouse creation. This second workshop of Scotto Moore's new science musical is tighter, more fleshed out, and flashier. Some songs cut, some added. It's looking great. "One more day and one more pellet. I gotta big brain and I really gotta sell it."


Quickies
Seattle


Live Girls! Theater June 2012
I'm directing this amazing short play called Bang Bang Choo Choo Train by a playwright I bow down to, Elizabeth Heffron. All the work in this evening of brief plays is stellar, and ranges from silly to affecting.


The Lorax, The Sneeches, and more Seuss
Pacific Northwest
Book-It Repertory Theater Feb-May 2012


Touring the schools and perhaps Vegas! Biggest selling show in Book-It All-Over's history! The staging is pretty awesome, says the director. (Me.) It's really more acid-trip in dark and cruel characters than you'd think, wrapped in zany dense abstract rhyme. (That's me in the b-cast version, with Sara Mountjoy-Pepka and Terri Weigant.)
MID FACTUM 21JUN12 11:00AM The B-Cast season began with three hefty weeks of gigs, then waned to a handfull here and there. This past month we've had just a show a week or less, and frankly it's hard to get back in the groove. Still, what fun we have still riffing and making each other smile. Sounds like the A-Cast is on a similar realm of play. They're on tour in Eastern Washington right now for two weeks. I hear from Ben and Erin that they're muggin' it up, as they should.


Readings from the YPP
Seattle
Rain City Projects 13 May 2012
Rain City is producing the workshop of a short play by Lakeside High School senior, Grace Levy. Margins is a playful and insightful piece about a dangerously intelligent trio of teenagers squatting in the upper stacks of a prestigious private school library. Are they students? Or is there something more insidious about their situation? I'll direct. Josh Aaseng, Matthew Aguayo, and Alex Garnett star. Two other plays produced by Live!Girls! Theatre round out the evening, taking place 7pm at Theater Off Jackson.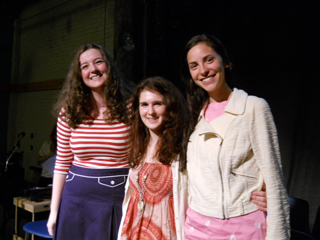 POST FACTUM 17MAY12 9:00AM 'It's so heartening to see those engaged young playwrights. And it's always fun to hear new work. And what a nice big audience!' So says Becky Bruhn, RCP board member and generally marvelous person. The evening exampled three styles of staged reading -- traditional music stand with narrater, fully staged with no stage directions, and somewhat staged with characters reading their own stage directions. We began with the affecting Theodore by Meredith McCormack-Mager, a bittersweet piece which follows a teddy bear through three scenes of isolation, loneliness, and expectation. Then came our piece. (The offended gasps when the books were defiled at the end was very satisfying for me.) Last was Emma McIntosh's The Great Invasion set in a school bus during the height of Beatle's fandom. The feedback session at the end was affirming and insightful. For our piece, we were very concerned that audiences wouldn't understand the end. But indeed they did.


Music, Noise & Silence
West Virginia
Magic Circle Mime 16-18 Apr 2012
I play the role of Noise in this marvelous touring show, performing with symphonies.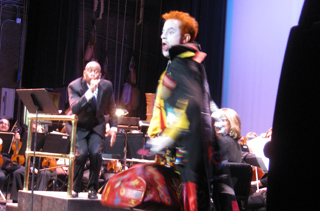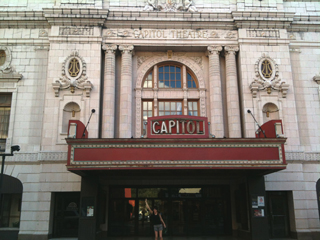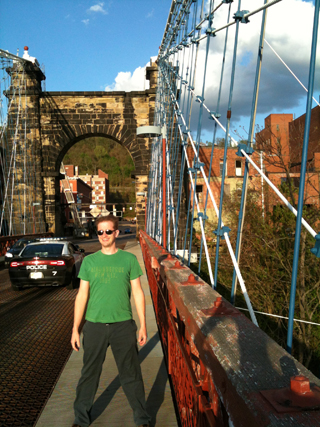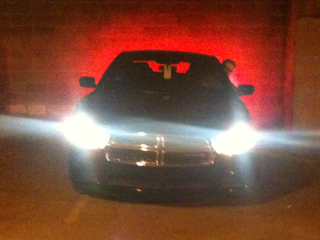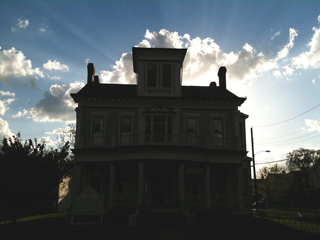 POST FACTUM 23APR12 12:00PM charger tour 2012 highlights: our night drive down the ohio river -- eery and awe inspiring. row houses right off the street, dark and decrepit. crumbling porches, boarded windows, the occasional kept up, renovated, or just lived in be-columned victorian house. the factories sparkling vast in the night and bristling with swing shift activity, as the road wound around and up and down the hills. much more hilly than I'd expected. watching sara win over the orchestra while conducting dance of the clowns. getting to know the wonderful wild musicians over martinis at a swanky restaurant and over shots at a sports bar. seeing our conductor, andré rafel, riff on our stage-play through the week; especially when i made him laugh so hard during a performance that he couldn't begin conducting country band march. micah's mustache. micah in general. an afternoon spent at the costume and second hand store called stages. being led into the upstairs rooms of that decaying building, a civil war era morgue, in search of fezzes. wandering wheeling with sara. touring with sara in general -- a most talented, intelligent, and compatible tour partner one could only hope for. the impeccably restored vaudeville era metropolitan theater in morgantown. emerging from under the stage for my orange-haired entrance. the barrage of wadded up paper every member of the orchestra threw at me during our last show which caused me to collapse on stage. a strange way to express love, that's my take. the handle-bar mustached roadside construction worker responding to our awesome rental car: "charger!" the elementary school boy responding to our awesome rental car: "nice charger!" all the west virginians responding to our awesome rental car!




Jesus Christ Ukulele Star
Seattle
House Concert Good Friday 2012 - 8pm
Year one. . . One ukulele. One voice. One broadway score sitting on one music stand. (Maybe a few amps!) History in the making. Say you were there when it all began -- before the other musicians, before the other vocalists, before the costumes, before the spectacle. 2012 Matthew, Mark, Luke and Johns the genesis of this once a year vanity blowout, every Good Friday from now until the rapture. Bring your own beer or water turned into wine. We DO know how to love him, Sanna Sanna Ho Sanna Hey Superstar!


MimeShop
Central Washington University
Seattle Mime Theatre Apr 2, 2012
POST FACTUM 3APR12 11:00PMBest weather ever on the drive over the mountain. Still snow on the towering craggy cliff tops. The improv tonight was about a scottish cyclops with a winged flying apparatus, and a group of golfers who go clubbing with him. Eventually, after the drunken, debauched night, they wake up to find they've become cyclops themselves.


Ukelooza
Seattle
Rain City Projects March 2012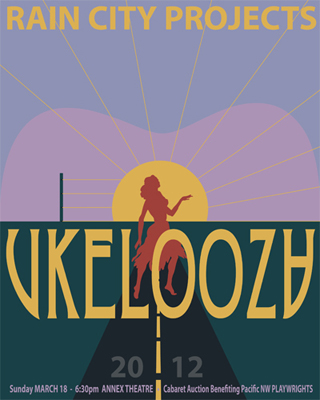 In its ninth year. This is it, Rain City Project's one-and-only ukulele extravaganza, Ukelooza! It's a Hawaiian-themed party celebrating that instrument we call "a flea" and the release of Vol. 3 of our ever-expanding MANIFESTO SERIES, this volume edited by Naomi Iizuka and featuring an abundance of stellar Pacific Northwest playwrights!. This year, Ukelooza features performances by many* fabulous musicians and artists AND includes our well-documented UNBELIEVABLY GREAT auction items** (always some shocking package deals you'll never get anywhere else!) Plan now for our super-yummy, pineapple-garnished Mai Tais! (Just like summer!)
*Fabulous musicians and artists include: Jose Bold, Terri Weagant, Sgt. Rigsby and His Amazing Silhouettes (aka Scot Auguston), Danielle Radford, and Chrom-a-Matic (which means they'll be creating a painting throughout the show which is then auctioned off!)
** UNBELIEVABLY GREAT auction items include: SIFF Tickets, Teatro ZinZanni tickets, Truman Buffet Photography Package, Stranger Ad Discount, Tarot Card Reading by Tina Rowley, Cake by Pamala Mijatov, Jewelry by Peggy Gannon, Slot on Annex Theatre's Spin The Bottle, Reiki by Cecelia Frye, Coffee from Starbucks, Wine, Champagne, Babysitting from Meghan Arnette and Juliet Waller Pruzan, and tons and tons of tickets including Live Girls!, WET, Theater Schmeater, Printer's Devil, and Northwest Film Forum. And MORE.


Young Playwrights Festival
Seattle
ACT Theatre 15-17 Mar 2012


POST FACTUM 20MAR12 12:00PMI just finished formatting Nora Germani's play Dinosaur Bones, which I'd directed for the festival. It's just amazing to me that an eighth grader wrote this thing. It's a funny, heartfelt, complexly structured journey of a newly dead young transgender person searching for his/her identity and connection to the one person who supported him/her in life. Here's an email I sent to my cast after opening: "NIce work, everyone. The show was lovely tonight. The tech went very smooth, thanks Cat. Great new moments discovered, like when LaChrista sigh-grunted upon seeing the ghost of Charlie. Great seizing the stage, like every time Heather opened her mouth. Great way to seize and ride the emotions, like Murren in the dual self-chiding scene. And great way to keep things anchored and well-arced, like Carolyn's stalwart mannish acting. Our show had the most depth and levels of the evening, in my opinion. Not that the other plays weren't great, but I'm just saying, we have the most juice to work with. Thanks, Nora."


Beyond the Score
Seattle
Seattle Symphony 4 March 2012
Sara Mountjoy-Pepka and I are commedia del arte mimes demonstrating Mozart's zany intent during a concert of his Piano Concerto No. 27. POST FACTUM 13JAN12 11:00AMA Conneticut Yankee in King Arthur's Court. That's what it's like being a performer in a symphony hall. Like a strange visitation, this performer-person amongst musicians and really awesome union crew. Everyone said I'd be intimidated by the vast expanse of the hall, the large audience and the striking music around me. Well, it was fun. Kept my eye on the ball and chucked it like I know how. Great to have Sara there as an achor -- she knows music. Great prep for the Magic Circle work ahead.


Meow Cabaret
Seattle
Rendezvous, JewelBox Theater 1 Mar 2012
On the running orders back stage at cabarets, if you perform poetry, you're listed as a poet. If you tell a story, you're a storyteller. If you act a scene or monolgue, you're theater. if you play a musical instrument, you're categorized as music. If you play uke, you are "ukulele." Not music, just "ukulele." It is its own unique category of performance. At first I was insulted. Then I was proud.


That Thing
Seattle
Coppergate Pussy Room 29 Feb 2012
POST FACTUM 04MAR12 11:00PMLeap day. The most lovely and stimulating cabaret slash open mic evening I've ever been a part of. It's like waking up to a family of your dearest dreams. The talent and the openness and conversations. Strangers who may be dearest friends. And it all happens in the Pussy Room, the back room of the Coppergate pub in Ballard. The last Wednesday of every month, you show up, pay three bucks, write your name on a slip of paper if you want to perform in the first act, seven minutes max. The second act is like an invited guest. This week a bloody uncanny psychic! I don't know how the hell he did. Ask me about it sometime. Uncanny.


Variety Show
Seattle
Rendezvous, JewelBox Theater 18 Feb 2012
Mean Grown Ups = theater, stand-up and live jazz combo. I'm gonna try to get my new uke horror song cycle called The Well finished for this. And perhaps Janelle Monae's Tightrope. On uke. Obviously.


The Family Crest
PhinnyGreen
House Concert 26 Jan 2012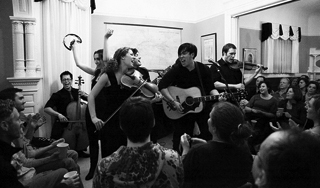 I have no idea what I've gotten us into, but it's gonna be glorious! This bay area seven piece orchestral indie band is performing 31 shows in 31 days in the Seattle area. After hearing their live in-studio on KEXP I emailed them, offering our house as one of the venues. No, we don't know any of them personally. Yes, they said yes. Their music is great -- listen to it on their web site -- and they seem like grand folks. If you wanna come, email me. We can become one of their "extended family members."


A Mouse Who Knows Me
Seattle
ACT Theatre 22 Jan 2012


First workshop of this new musical by the best science fiction playwright on earth, Scotto Moore, music by the Gregory Award winning Robertson Witmer. Cast includes Sara Mountjoy Pepka, Pamala Mijatov, Rick Miller, Isaiah Crowson, Brian Kinyon and Laurie Utterback.


MimeShop
Central Washington University
Seattle Mime Theatre Jan 9-10, 2012
POST FACTUM 13JAN12 11:00AMGreat drive over the pass with Rick, catching up and reminiscing on ole SMT times. Clear weather made for gorgeous mountain vistas and, on the way back, STARS! Got more mime training from the master. First night improv ended on a sweet note of a one-armed chicken gaining flight (the movement chorus of five college student volunteers spontaneously lifting me up high!). Second night improv was the raunchiest on record, a veritable graphic porn mime! I loved my bodacious, ditsy surf stripper.