2 0 1 1

The Milosevics
Seattle
Paradise Theater 16-17 Dec 2011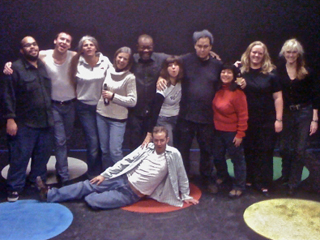 It's on tour. To Seattle. From Chimacum. Playing at West of Lennin. Not your standard holiday fare: A poignant and comedic look at political power using interviews, transcripts, and public records to tell the story of Slobodan Milosevic's rise to power and his subsequent trial for crimes against humanity. Expect dance, music, improvisation, and a unique examination of Milosevic's last stand. I play Dragoslav Ognjanovic, Milosevic's legal counsel.


Young Playwrights Program
Seattle
ACT Theatre 12 Dec 2011
This year I taught at Lakeside School and Ballard High School. Lakeside was a dream, and Ballard was a rewarding struggle. Great talent all around.
POST FACTUM 13DEC11 12:00PMI'm doing a little proud dance for my students. Recognize: the following student's plays made the cut. Congratulations.
LAKESIDE
Blood Like Water by Carter Stratton
- workshop at ACT Theatre
Margins by Grace Levy
- workshop produced by Rain City Projects
Theodore by Meredith McCormack-Mager
- workshop produced by Live!Girls Theatre
The Great Hair Famine by Madeline Deysine
- honorable mention
Ladies and Gentlemen by Michael Land
- honorable mention
Absense by Moreil Behar
- honorable mention
A Fly in Charlotte's Web by Mykaylla Vederoff
- honorable mention
BALLARD
Under a Shadow of Siege by Dylan Edwards
- honorable mention
The Death of Lilia Roberts by Malaya Mojica
- honorable mention
Those Awkward Moments by Rachel Brown
- honorable mention
Ticket by Elizabeth Mendoza
- honorable mention
Early Freethinkers by Jack Bereiter
- honorable mention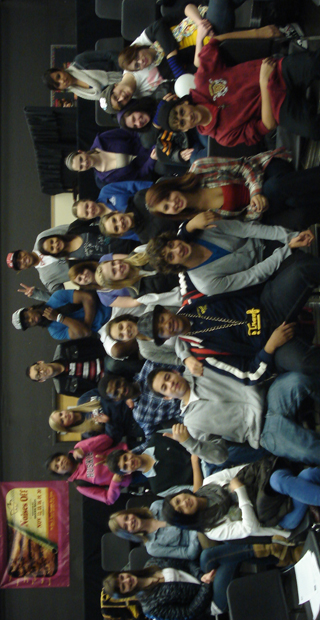 60 Seconds Max
Seattle
Annex Theatre 4 Nov 2011
60 Seconds Max is more than just a wild-ass marathon of bite-sized performances: It's a challenge to creativity, a distillation of inspiration, hand-to-hand combat between the ego and the editor. It sparks the imagjnation, dazzles the eyes, and makes your brain cells light up like a Christmas tree. It is Annex's once-a-year demonstration that a big impact can be crammed into a single minute. And it is hugely fun.


Magic Circle Mime
Chicago
Chicago Symphony Orchestra 27-30 Oct 2011
Technically I'm not performing with this marvelous company. Yet. I continue to train and prepare to jump into the realm of symphony performance by assiting with the show called Phantoms of the Orchestra. Eventually, I will conduct. No. . . really. If all goes as planned...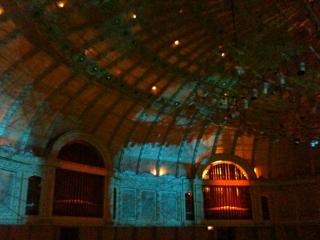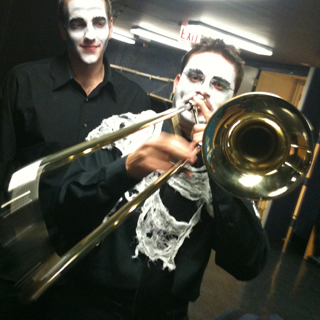 Cupcake Reading Series
Seattle
Mount Baker Community Club 24 Oct 2011
Directing the night of short work by women playwrights.


Sandbox Radio
Seattle
West of Lenin 10 Oct 2011
Returning by popular demand: "Crackling. . . electrifying. . . fresh, joyful and awesome." - The Stranger. This time with that Halloween flavor -- candy and raw gourd innards. I play a dog (again), a King (of course), a guy who's haunted on Facebook (scarry), and the uke (Madame Flora from VAUD RATS). One of those days I get to spend with phenominal artists I spend most of the year admiring from the other side of the fourth wall or microphone. You can download the shows on iTunes.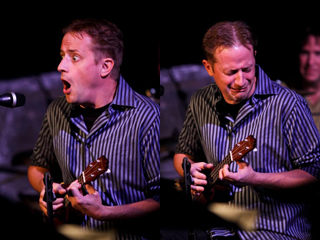 Tacoma Free For All
Tacoma, WA
Pantages Theater 9 Oct 2011
Selections from Vaud Rats at this marvelous festival -- sort of a Bumbershoot without the crowds.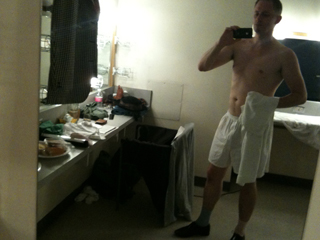 EnJoy Event
Seattle
Freemont Studios 28 Sep 2011
One of their huge corporate events for who knows who (some tech company, I hear). It's so much fun doing these gigs because you get to hang out with world-class artists, usually in the circus and arialist genre. It's Steampunk this go around -- best costume ever!





Seattle Mime Theatre
WWU
Central Wash. Univ. 26, 27 Sep 2011
Becoming a regular gig, after being with the company for, what, about ten years now. Every audience of this Intro to Performance class gets better and better. The improvs are my favorite -- this time a nasty scotsman impregnating a goat in space, and a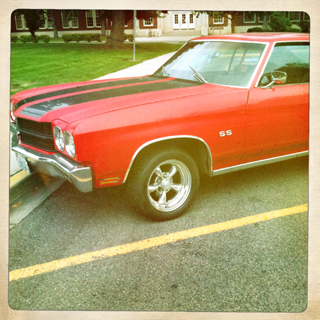 Variety Show II
Seattle
Rendezvous, JewelBox Theater 20 Aug 2011
Another, another cabaret, this time with the sketch maniacals, Mean Grown Ups. Theater, stand-up, and live jazz combo. I'll play some uke and sing. Duh. Duh.


Speed Dating
Seattle
Richard Hugo House 19 Sep 2011
I'll play some uke and sing. Duh.


Make A Wish Wonderland
Bainbridge, WA
theater simple 11 Sep 2011
Theater matters. This time it mattered in spades. Thank you theater simple for making this happen.




Live! Theater! Mash-Up!
Seattle
ACT Theater 31 Aug 2011


Remember this from 2008? Doesn't matter, it's happening again. Exciting, innovative, genre colliding ensembles and solo artists sear the stage of ACT's Bullitt Cabaret. Cecil B. DeUkulele (dats'a me!) will emcee and sing lots from Vaud Rats.


Variety Show
Seattle
Rendezvous, JewelBox Theater 20 Aug 2011
Another cabaret, this time with the sketch maniacals, Mean Grown Ups. Theater, stand-up, and live jazz combo. I'll play some uke and sing. Duh.


Mezzo Lunatico
Seattle
Teatro ZinZanni 13 Aug 2011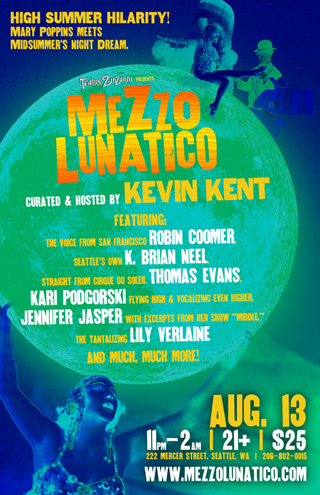 Diving into the cool waters of cabaret season this Fall, beginning with the small-top zirkus tent of Seattle ZinZanni. My old friend Kevin Kent curated and hosts the evenings delectables. Circus straight from Cirque Du Soleil, vocal hi jinx, stand-up from lovely and naughty Jennifer Jasper, and who knows what else. "Mary Poppins meets Midsummer Night's Dream." I'll make sweet ukulele love to everyone in the house!


META Performing Arts Camp
Northwestern Washington
Conway Muse 18 - 22 Jul 2011
I'll be teaching improv and acting to students ages 9 to 18.


SAAR Project
Seattle
Book-It Repertory Theatre 14 - 17 Jul 2011
I have no idea what it is, other than I'll be performing in graveyards and that Kelly Kitchens is directing. Here's to the great unknown.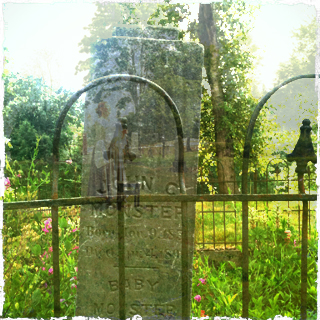 MID FACTUM 7JUL11 12:00PMOkay, here's what we got: it's sort of a living history performance about people buried in an historic pioneer cemetery in Kent, Washington. Sounds dicey, doesn't it. I guess it could be, however occasionally in rehearsal, we look around, take it all in, laugh ourselves to our knees or laugh coffee out Kelly's nose, and realize it's a pretty cool gig. Weird, but nice, you know. Rachel Atkins' script is both reverent and not. Heather Hawkins is my wife twice, John Ulman plays the guitar and a man with chronic diarrhea, Stephanie McAlenxander plays a newlywed of mine and sweet fiddle, Rebecca Olson, co-miner, and Jon Lutyens, my son and stuff, both look too good in costume. Together, we make sweet music between the short theater of the dead. No zombies, even though the 4 Culture article mentions something about them. It's a bizarre graveyard, stuck between a freeway and a strip mall.


Sandbox Radio
Seattle
West of Lenin 20 Jun 2011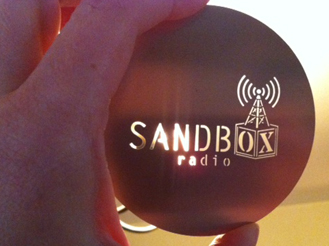 ONE NIGHT ONLY...SANDBOX RADIO Live! An evening of new works written specifically for the radio by Scot Augustson, Vincent Delaney, Elizabeth Heffron, Chuck Leggett, Anita Montgomery, and Paul Mullin; new music from the Sandbox Radio Band led by Jose Gonzales, conceived and directed by Leslie Law, performed live by members of the Sandbox Artists Collective - all recorded in front of you, our "studio" audience, for future podcast.  Don't miss being a part of the inaugural episode of this exciting quarterly event! Free Admission, with donations to the Sandbox Artists Collective gratefully accepted. Doors open at 7:30 with live music, show starts at 8:00pm.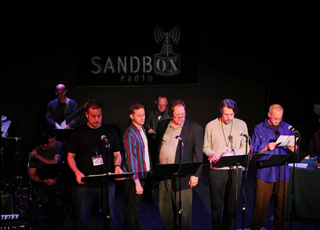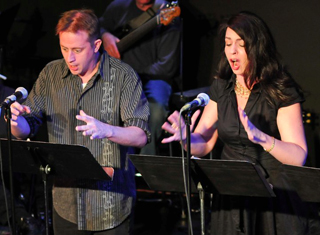 The Milosevics
Chimicum, WA
Paradise Theater 29 - 30 Apr 2011
A poignant and comedic look at political power using interviews, transcripts, and public records to tell the story of Slobodan Milosevic's rise to power and his subsequent trial for crimes against humanity. Expect dance, music, improvisation, and a unique examination of Milosevic's last stand. I play Dragoslav Ognjanovic, Milosevic's legal counsel.
POST FACTUM 1MAY11 12:00PM Coming out of these past few intense months, a week of intensive rehearsals while living in a small cabin, culminating into two performances, at first made me question my state of mind agreeing to the project. But an hour into the first rehearsal, I was jazzed, baby. This project was invigorating. Wonderful people, great script, jolly fun musical numbers, and a theater space I've been in love with for years. I hope the show has a future life. It deserves it.


Zirkus Fantasmo
Seattle
Teatro ZinZanni 5 Mar - 1 May 2011



An all-ages spectacle in Seattle's resident Spiegeltent. I play Signore Zoopa.
MID FACTUM 15MAR11 12:00PM It was a batty storm of a rehearsal process, yet remained always fun -- great circus artists, actors, crew, and directors. A collaborative jam of creation that I haven't experienced since my days with the Tumbling Tumbo Brothers. Audiences are loving it so far, even as I continue to hone my character schtick through performance.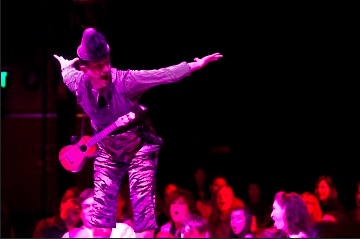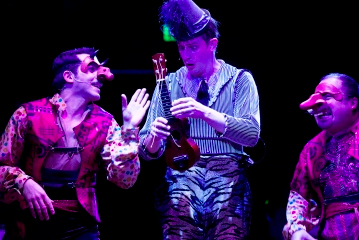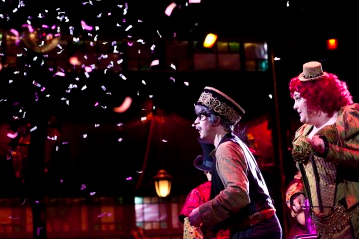 The Happy Ones
Seattle
Seattle Public Theater 18 Mar - 10 Apr 2011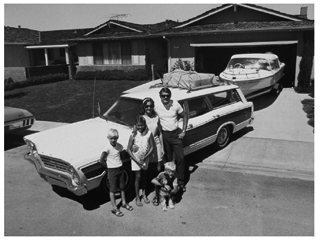 A farcical and tragic play about a man living the American Dream in Southern California in the mid 1970s. I play Walter Wells, a man who looses everything and finds solace in the one person who inadvertently caused his destruction. A marvelous play by Julie Marie Myatt, inspired by a book of photos called Suburbia, by Bill Owens. I'm joined on stage by Macall Gordon, David Hsieh and Shawn Law, under the astute direction of David Gassner. It's an emotional rollercoaster.
MID FACTUM 7APR11 12:00PM I'll be honest with you, I'm confounded by this play. I have moments of thinking the script is very weak, and then I come around to feel it's quite intriguing, perhaps even brilliant. It's a similar feeling when I read the early non-science fiction work of Philip K. Dick. There's a discomfort one has with the characters. They are frustratingly weak-willed, flawed, making maddeningly poor choices, but you can't stop reading to the bitter end. Is this a California state of mind?
The Seattle reviews for the play have been less than stellar, my performance in particular. Most specifically, they say my character is poorly written, and my acting doesn't raise it up to be anything stellar. It is possible for a good actor to take a poorly written script and make it good. I've seen this many times, especially in solo shows. But I'm not achieving that in this case, it seems. At least to the critics. Why not? I don't know. I have sincere emotional heights, I'm finding dynamic levels of grief, I'm being subtle or overt depending on what's needed. I'm present in the moments, connected with the other actors… So why are people so dissatisfied with me and my character? I think it has to do with the nature of my character, Walter. He's a difficult pill for the audience to swallow. Let me explain:
Walter is the central character, the lead, but he's not the protagonist. He's not a hero. The audience doesn't sympathize with him. But he's not really an anti-hero either. On the one hand, Walter deals with loss very realistically by never really getting over the tragedy of his loss. On the other hand, the script has these sit-com style scenes that are somewhat shallow. It seems like easy-answers are being made, but in reality they are not.
The few scenes at the top of the show don't establish Walter as sympathetic, they establish him as two-dimensional. The scenes make the audience either question some underlying pathos or simply accept him as flat. (If there is some darker subtext, there's no reason for it or explanation asking for it in the script.) Walter has a vacuousness that's perhaps very southern California, but it doesn't lend one to connect to him, no matter how grounded and pleasant and happy I act him. So when the tragedy occurs in scene four, the audience is not sufficiently connected to Walter, so they aren't ripped apart by his pain. Then again, there really isn't any pain shown at this moment in the script anyway. On the contrary, the tragedy is jumped. We go straight to post-funeral processing. We see Walter in the stages of grief -- anger, denial, numbness, bargaining, shock, guilt, depression -- without the purging emotional breakdown that would normally occur in a person. The author, I hear through our director, found that when they tried an emo breakdown at the beginning in workshops, the audience was saturated by it and tuned-out of the rest of the play. They found there needed to be a tension to build to the climax. I absolutely agree with this, this makes sense to me. But herein lies the most frustrating, albeit intriguing aspect of a show. We spend the rest of the play despising Walter. As his grief is processed with anger, sadness, self-pitying, whatever. We see him give a laundry list of how perfect he was before the accident ("won every raffle I ever entered" -- really?). We see him pissed at Gary and Mary Ellen for invading his house, not letting him grieve. We see him Angry and confused at Bao for forcing himself on him. All of which makes Walter a jerk, which obviously doesn't engender compassion towards him. No one wants to witness two hours of anger, sadness, self-pitying, and whatever. Furthermore, the three characters who surround Walter are doing all the wrong things in attempts to help him. They end up making Walter even more annoying, but since they are trying to help, trying to cheer him up and make his life better, they are sympathetic.
I rehearsal we discovered that making Walter either full of self-pity or moroseness tanked the action. It dropped the energy, the drive to the end. As Gassner put it, no one wants to see someone give up. They want to see a person fight, a person try to be strong. The problem is, Walter fighting through the show ends up coming off overtly mean. I make him struggle to find the reason this happened to him, struggle with his daily hell, but the script only shows the times when he's bouncing off others, angry or frustrated or simply accepting them for getting in his face. But he never takes control of any of it. Never really kicks them out, or better yet, engages them or elucidates them to his mental predicament.
None of this would be dissatisfying If Walter went through a satisfying change by the end of the play -- if he had a sensitive and thoughtful arc by the end -- the torture of his grief-experience would be purging. But he doesn't. It's Gary and especially Bao who go through the most satisfying changes. Gary finds a way to vocalize his sympathy for Walter and anger at his loss, something he's been struggling with throughout the play; and Bao confesses his tragic story and is able to ask forgiveness. These are major character changes that an audience can sink their teeth into and care for, as apposed to Walter's breakdown half way through the second act which is almost distancing to the audience, and viewed through the eyes of the other characters anyway.
And what does Walter learn through his breakdown? He decides to flee his world. To run away instead of facing the problems. This is not change, but avoidance.
Walter does find acceptance to a degree, the upward turn that allows him to move forward in his life, but there is no moment when the audience becomes one with him. Where an audience can join his perspective in change. Walter's heart doesn't mend, that's absolutely realistic. But he isn't elevated through the process of grief either. He begins to get better, but doesn't poetically or metaphorically reach a satisfying fruition. Stories need this for an audience to feel like they've come out the other side. The audience may feel sorry for Walter, commiserate with him, but they never purge with him and take in what's on the other side of the mountain. Instead, the audience witnesses the purge through the other characters' eyes, from their viewpoints, which creates more distance to Walter.
If Walter were an anti-hero this would all be fine. But he doesn't even revel in being a dick or fucked up at the end, he just hasn't changed at all.
This is the reason I'm flummoxed, pissed and intrigued by this play. Walter may be an anti-hero of some kind I suppose. Not the kind that revels in being an asshole, and says fuck you to the establishment. But more the fact that he's driven even further into denial of his world, the author seems to be saying this non-change, this lack of growth is the reality of American California-types. If so, the reviewers and perhaps the audience just aren't getting it. They're dissatisfied, perhaps unaware that this conundrum may be intentional. And they have no reason to think this is intentional. The easy-answer fixes in the rest of the play -- the sitcom aspects at the beginning and end -- lend one to think the show is vacuous with some astute moments and good scenes. But they may be wrong. Why? One reason may be because audiences are appreciating it. Real folk, not theater folk are loving the show. The standing ovations and cheers are proof of that.
As a side-note, playing this anti-hero, Walter, opens me to many interesting comments from lobby lingerers. They offer congratulations and "well done"s, but often admit to hating Walter at times, if not all the time, and feeling distant from him. Even people who have gone through unimaginable loss, people who speak of connecting to aspects of their grief up there on stage, for them Walter's reactions are all too real. This adds a level of honest sympathy, but still a discomfort with Walter. Who wants to re-live their grief through a character in a play? Who would want to smile at that guy? Or smile at the guy playing that guy? Perhaps this means the play is brilliant. Or am I overanalyzing. I can't tell. Either way it's not easy theater. Perhaps great theater?
There are many plays and movies about senseless loss. For example, the French film Red. The difference in this movie is that the lead character, I forget her name, finds transcendence in her world by the end. Her pain and loss is still there, but she has achieved something by the end. She is a different person. Walter achieves nothing. He forgives Bao. But you don't know why. They go off into the sunset, but Walter never says why. He just speaks in cryptic, distant remarks. "We're looking at the future now, aren't we? The future." "It's all gonna work out great. I just know it." If Walter were just able to speak his perspective, his truth, let us in on how he's dealing with it all, how he came to these conclusions, perhaps we could feel for the guy. The only time he does so is to confess he was stressed out and worrisome about his life. He admits, in his own way, to hiding behind denial of anything bad in his world. But in the end that's exactly what he chooses. He doesn't choose to have Bao come with him on his future journey. Bao initiates that. Walter just lets it happen. The only choice Walter makes is to revert to the exact same facade of a man in denial that he was at the top of the show. Through all his journey, through all his loss and pain, nothing substantive has changed in him. Sure, he's not racist anymore. He forgives Bao, by proxy. But his essence as a person is the same. The only thing you could say that has changed is he's even more of a frustrating idiot. Even more in denial. "We're going to be so happy we won't recognize ourselves," he says on his way into the future. Why would he say that? If he believes it's true, he's ignoring everything he's gone through. If he doesn't mean it, why say it? He's an idiot.
In the end, I'm not sure if the structure and styles of The Happy Ones are successful. In an interview, Mrs. Myatt says this is a play about optimists who don't know how to deal with tragedy. She wants to push the sunny as far up against the tragedy as possible. I love this idea, and she does indeed succeed in achieving it. By creating Walter, a man who never changes, a ball being bounced around a tragic pinball machine from beginning to end, this is a statement about the American state of mind, the California state of mind. Denial is his world, and nothing will ever change that. But the fact that other characters do come out the other side, changed for the better, it makes for an odd journey for an audience. And an odd predicament for this actor.
For now, since I'm still acting the thing, here's a summary of my intentions: Ground the beginning. Even though he's incredibly happy, too much happy seems to create distance in the audience. Allow some heartbreak in the toy pickup scene, not so much as to release the tension, but enough for the audience to feel for him. From then on out, never give up the fight, all the way to the end. Push solid to demand explanations, reasons, and blames, in himself and others. To let go of this is to pop the tense bubble and release the audience from the build up, and it makes the character seem like he's feeling sorry for himself. We don't want that. However, find as many levels in the fight as possible. It's not all just anger. And most important, find compassion in him and accept help from others as much as possible. This can be achieved without popping the bubble. Lastly, make sure the decision to bring Bao along on the road trip at the end is Walter's decision -- stay strongly connected to Bao in the packing scene, even though the script seems to have Walter in his own distant world, readying for his escape, the emotional loss at the thought of leaving Bao must be huge, otherwise there's no reason for him to bring Bao on the trip. Then, in the last scene, when Walter gives away the picture, this has to be Walter coming to solid terms of letting go of his grief; not finding happiness mind you, but making the choice in that instant to move on. These are the only ways I can think to engender sympathy for Walter. It's my take and I stick with it.


The Coffee Table
Web Series
Scotto Moore Filming Oct 2010 - Jan 2011


Round two of filming begins the last week of January. To reiterate: The Coffee Table is fifteen 5-minute episodes about a family who discovers that their new coffee table is actually an ancient alien artifact, which sends them & their house hurtling through the void. Writer, director Scotto Moore is on the rise here in Seattle. He has a play currently selling out at Annex Theater and can't seem to stop writing amazing science fiction plays and teleplays.


POST FACTUM 7FEB11 11:00PMWarning: it's often tedious reading the scramblings of actors. We blather on about our insecurites, giving grueling descriptions of the vain microcosms swimming inside our shallow heads, ramble insessently about facial blemeshes and hair styles. . . You want to tell us to shut up, but you're too polite for that. So you smile and nod and feign interest, and that's what you're going to do right now. . .
My First Call-Day of Round Two Shooting: I arrived at my call time of four o'clock to find everything behind schedule. We didn't get to my first scene. No worries, got to hang out on set and chat with the crew and cast, and dinner was fabulous! I got one word for you: Kraft Services. (It is too one word!)
Second Call-Day: Just like always, I'm amazed how much time is spent setting up, and how quickly the acting goes. My first moment on camera, I spoke two lines that now will never be spoken again. Hope they got something good in the three takes. Felt a little slow and stifled to me. Must loosen up for my meatier scenes. Love the mellow cast and crew.


Third Call-Day: Okay, now it's rolling. In four hours we covered most of my substantial scenes. Shake and bake, baby. Figures I'd cut myself shaving in four places this morning! Nothing that couldn't be touched up with a little cover-up. Again, I mourn the now unneeded beautiful lines of dialogue such as "I am called Discrete Moment. I am an ambassador called unto service as soon as we realized one of the artifacts was calling out for help." I started goofing around, hoping for an outtake, saying I was going to change my accent. So I did the line as someone from India. No laugh. Did it in cockney. No laugh, but LaChrista mercifully replied, "I like that one." Finally, when I did it in retard, people laughed. So much so that we ruined a take. It did not make the crew happy. By the end of the fourth hour, I wasn't as bright and sharp. Really didn't like how I did some of those moments, no pun inteded. Doesn't bode well for the twelve hour days this weekend.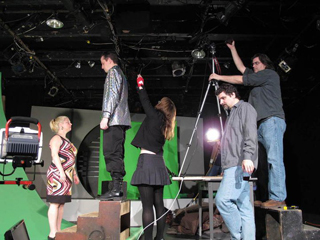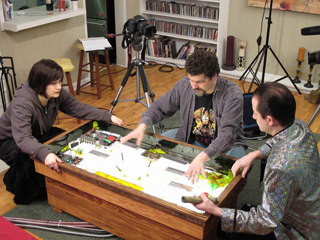 Fouth Call-Day: Green screen night at the theater was incredibly fun. Had to re-shoot some stuff from the front porch scenes. Sometimes I love acting to nothing -- pretending like I'm looking into the eyes of another actor and reacting with feeling and spontaneity. Psych! I'm starring at a piece of tape on a cable! Fooled ya. Well, hope I fooled ya. We'll see. Felt really good about my hair until I saw a still pic from behind showing a bit of thinning. I love watching the monitor as they shoot other scenes. Man, everyone is gorgeous and charismatic on screen! Hope Beatrice, I mean Ben, can somehow edit me to look that good.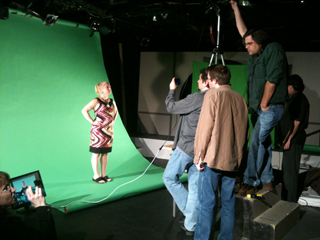 Fifth Call-Day: We shot all my remaining chunky scenes plus the "Fears" today. I felt pretty good about my stuff, and the Fear Dimension was a rush. Strobing lights and hand-held camera work, four guest stars on set screaming with intensity all horror show like. LaChrista can sure shriek. And the coffee table was in full operation, giving us all reason to geek out! There are something like 137 computer controlled LED lights that flow out from center in synquence when a "move" is made, and that's on top of the pulsating-light voice crystals, NASA style control boxes, gel-flowing tubes and gear containers. . . and several suprises for seasons two and three. This is the expensive star of the show. Shooting ended for me three hours early, which was a bit dissapointing because I chose to leave before dinner.


Last Call Day: This was the day of Moods and Ninjas. Shooting started a couple hours late because the full-body makeup of the Moods was bloody epic, and the table needed surgery to debug a short, which apparently vexed a number of technical botherations. The purple Mood woman and blue Mood woman on set all day was a bit surreal. On camera they spoke in unison and off camera they couldn't have facial expressions or move freely because of the makeup and costumes; so it was almost like we really were in their dimension all day. Then when the three ninjas arrived on set -- Stabby, Grabby, and Chin -- things got crowded in that living room, in a very cool way. The awesome factor shot up to eleven. Things went quick and dirty and intense. Krk, our DP, and Ian Johnson, our second camera, were fantastic as usual. I loved our ritual at the end of my takes -- they'd look up from their cameras, glance at me a second, I'd raise my brows, they'd nod that all was good, and we'd move on. I think I got some awesome moments and goofed off a bit because I had to (I make no apologies for my tongue, Coe). Thanks for having me, Scotto. Now get to work on season two!


MimeShop
Central Washington University
Seattle Mime Theatre Jan 10-11, 2011


14/48 Festival
Seattle, WA
A Contemporary Theatre Jan 7-8, 2011


Theater boot camp on crack. I've performed at something like fourteen festivals and written for four festivals. This time I direct for the first time. If you don't know what 14/48 is, The Seattlest explains the epic awesomeness.
PRE FACTUM 6JAN11 11:30PM Just got back from the Thursday night meeting and I'm feeling a bit blank about my role as director at this point. Utter panic isn't taking over like I remember having when I was an actor, and I don't have pen to the grindstone . I rest upon the past experiences of other directors and their advices: stop at six o'clock and let the actors have their space, take breaks, get a run by lunch, love your play (my favorite). I'm actually worried that I'm not worried. I like working with casts I know, show's I'm interested in. Of course I hope I get a good show, who doesn't? And if I don't I probibly won't know until days after. Here's to stretching my stage visions! Here's to stretching my actors! Here's hoping I can get some sleep!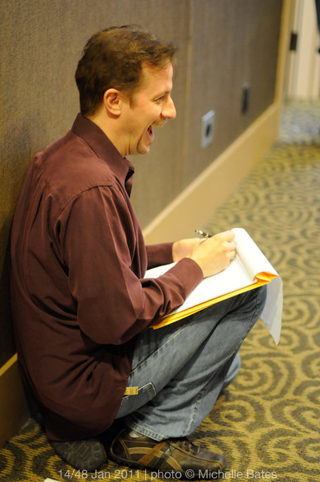 POST FACTUM 9JAN11 3:00PMHere was my world for the past two and a half days: FRIDAY Theme: It's All Part of the Plan. Play #6: Planning for Disaster, written by Maria Glanz, directed by K Brian Neel. Actors: Andrew Litsky, Megan Ahiers, James Weidman


From the 1448 Blog, Fri 2:48 pm, Posted by the beige one: "Rehearsal Check In: #6 Planning for Disaster by Maria Glanz. This group is just heading into a break at the moment, but Virgin Director K Brian Neel and Veteran Actor Andrew Litsky take the moment to discuss the basic character beats and the possible audience reactions to same. It takes mere seconds for the conversation to head to deep waters, which is instantly lightened the moment Litsky asks about using a fake echo for a particular moment. Not being able to see the actual piece in rehearsal, all I can gather as I leave the room is that Glanz has crafted some sort of doomsday scenario. Curious."


Final Thoughts: Directing in this environment is like living a mixed metaphor. Cooking the picture while stoking the bull's horns of Maria's post-apocalyptic play flowed really well through day. The cast was on task, and the last runs in rehearsal made me laugh my arse off and feel very confident we had a winner (which we did). At the 8:00 show it became clear that I wasn't clear in my tech rehearsal. Cues misfired causing the pace to slow and actor connections to kilter a tad at first. Even so, they powerhoused through and discovered wonderful moments. At one point Megan spontaneously lunged at James who leaned his body backwards like Neo in the Matrix only in fast-motion. I overheard an audience member whisper 'That was the most awesome reaction ever.' (I only like it when people talk during shows when they're impressed with something I can take credit for.) Fixed my tech bads for the 10:30 show, which I hear scored a perfect 10. Very proud of my staging moments under the platforms.


SATURDAY Theme: Bedtime stories. Play #3: Compromise, written by Juliet Waller, directed by K Brian Neel. Actors: Alex Garnett, Jason Sharp, Rob Jones, Ryan Higgins.
From the 1448 Blog, Sat 12:30 pm, Posted by LRose: "Take 4 guys in the cast, give them a guy director and set them in a play with a gingerbread house setting written by a petite and lovely gal and you will get the following: LINE: 'And it's not even Christmas Eve!' Someone says, 'I just thought of an action movie trailer where the guy starts blasting everything to hell. Like, voice over guy with that deep voice goes, Its not even Christmas Eve, and then it all starts fucking blowing up. . .' and he goes into Rambo mode. 'Yeah. . .' says the other, 'Like, the candy cane is ripped off the house and becomes a machine gun. . .' and he joins in. 'Keep it, keep it, yeah!!' says director Brian. And then they all run down to the Falls to quickly mark out a fight scene on the platforms."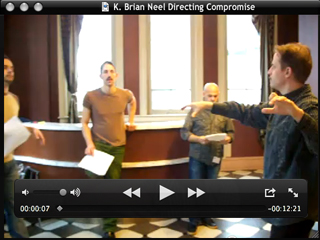 From the 1448 Blog, Sat 4:32 pm, Posted by LRose: "Compromise TECH: 4 boys in shorts and white knee socks stand awkwardly facing the audience in a line with The Jackson 5's 'ABC' as the lights come up on Compromise. Alex in shorty shorts, again. The band gets to interact as 'teacher.' OH! and a disco ball! Star Trek theme with a rumba beat. Alex fidgeting with the fit of the shorts probably not part of the choreography, but the tango with (RJones??) gets a big laugh from band and crew. Pigs noses, witch's hat, and "Kung Fu Fighting," and Alex constantly fidgeting with his shorts... yeah."
Final Thoughts: Epic slo-mo battle scene! Cher and Spock dancing! Four grown, hairy men in schoolboy outfits doing a fairy tale mashup! Together we organically riffed this piece together. My actors went for the gusto. At one point I said, "I'm leaving the room. Create this bit in ten minutes." Don't know if that was pimping them out or giving them the highest compliment. When I returned they were clearly having a blast. Selfishly, it was all about making me laugh, which they did over and over and over again. An incredibly fun day two. And I learned that letting the actors alone after six doesn't mean hiding from them.
There are some sweet pictures of my second 14/48 show and all the others taken by the lovley and talented official documentarian Michelle Bates here and here.