2 0 1 0

The Prince of the Pond
Pacific Northwest
Book-It Repertory Theatre Fall/Winter 2010
I'm at it with the children's theater again. Can't get enough. This time I play a prince who struggles with existence when he's transformed by a hag into a slimy green entity. Love and slapstick ensue.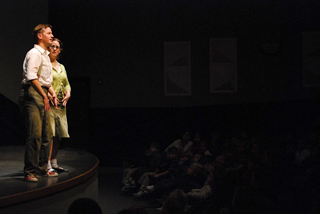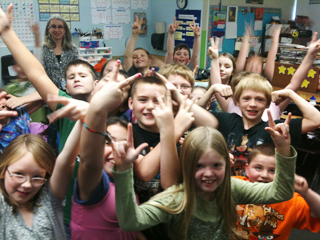 MID FACTUM 1DEC10 10:00AM the tour isn't selling as well as in the past. i only have about four shows left. week before Thanksgiving we hit the peninsula for the Juan De Fuca Festival, four days of marathon performances and workshops. It was a stress test, but wonderful fun at times -- especially the post-work day events such as wine tasting and nature walking and pub crawling in Port Angeles.


Young Playwrights Program
Lakeside School
ACT Theatre Fall 2010
Guiding the brilliant Senior Drama class to write plays. (Trivia note: Lakeside is where Bill Gates went to school.)
POST FACTUM 14DEC10 7:00PM What a whirl wind ten weeks it's been. The students at Lakeside are phenomenally talented. In the end credit was given: Naive Nativity by Ben Lawson, a play about two Irish brothers who happen upon a baby in their backyard and proceed to convince themselves he's the baby Christ, was selected to be workshopped at ACT in March and included in their anthology. Worth a Thousand Words by Graeme Aegerter, about a woman who refuses to belive her son died of suicide and the affect her denial has on a family dinner marking the one year anniversary of his death, was selected by A Woman Seeking... a theater company to be workshopped in the Spring; and Wants and Can'ts by Nikki Kiga, an experimental work that defies summary, was selected by Gesamutkunstwerk! to be workshopped in the Spring as well. Don't Ask by Oliver Krengel, about an especially gay American military, received honorable mention. I wish there could be an anthology comprising every play from this class, as they were all quality. Kudos!


The Coffee Table
Web Series
Scotto Moore Filming Oct 2010 - Jan 2011


Fifteen 5-minute episodes about a family who discovers that their new coffee table is actually an ancient alien artifact, which sends them & their house hurtling through the void. An amazing science fiction web series by the Gregory Award nominated Scotto Moore. His plays and Ignite speeches are brilliant, and the scripts of these webisodes are hysterical, clever, and dare I say it, touching. I play an alien named Discrete Moment.


MID FACTUM 11OCT10 9:04PM How do you develop an alien character in this day and age? Already imagined are all the crazy aliens that pop by and try to steal your brains or eat you or flap their air gills or whatever. Infinite numbers of those still yet to be imagined. But what about the intelligent beings sympathizing with the human race in attempt to help? Those with their own apposed views, superior intellect, and peaceful intent. The complexity of humanity intrigues and ensnares them. It's a challenging archetype. Spock and Data have the brainiac detached thing down. Aside from them, most of the aliens we've come to know "on our side" are basically extensions of us. Is it possible to develop an original take? In The Coffee Table, Discrete Moment has appeared as an ambassador to negotiate a trade for a valuable artifact which was created by a race long extinct and responsible for the decline of the imaginary universe which we all exist in. Discrete is superior, part of a superior race. But peaceful. This always thwarts ease when humans are concerned. He takes on human form, which tempts engendering connections with other humans of course. Still, he is detached and yet more a part of them than they will ever accept. What's an alien to do? / The picture above is from our screen test. From left to right are Daniel Christiansen, LaChrista Borgers, myself and Pamala Mijatov. It was a long night full of small talk, hanging out in the dressing room waiting for green screen tests. This pic was taken later in the evening when the d.p. was seeing how we all looked together on the couch. We look bemused, but I assure you, we are having such a blast in these three weeks of rehearsal before shooting.
MID FACTUM 11OCT10 9:04PM Shooting on the sound stage was a blast. They built a replica of the front porch and facade surrounded by green screen. The night before they shot the floating objects and people, which I missed but sounded like a blast. I am accustomed to doing take after take with different character intentions. However, in this case, our many rehearsals meant few takes. Scotto knows what he wants. Unfortunate news: the remaining shoot dates for my scenes have been postponed due to set construction issues.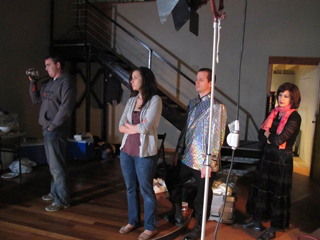 Seattle Mime Theatre
Central Washington University
Seattle Mime Theatre 27, 28 Sep 2010
I'm helping SMT continue their wonderful art form since Bruce Wylie, one of the long-time artistic directors, passed away this last Summer. He was a brilliant artist and person. I learned so much from him, more than I'll ever consciously know. The world and artistic community in Seattle is lesser for lack of his presence.


Votes For Women
Seattle Streets
Live Girls! Theatre 25 Jul, 26 Sep 2010


A theatrical entertainment with songs to honor the 100 year anniversary of Women's Suffrage in Washington. The performance was commissioned by the Museum of History and Industry (MOHAI) in conjunction with the exhibit Women's Votes, Women's Voices on display through October 3rd 2010. Votes for Women: Suffrage Centennial was written by Gillian Jorgensen directed by Mimi Katano and features Shawnmarie Stanton, Mariko Kita, Meghan Arnette, K. Brian Neel and Roy Stanton.MID FACTUM 19SEP10 10:00PMThe Pike Market show was surreal with all the tourists, Ballard Sunday Market was brilliant, Fremont was distant and snooty, Capitol Hill was surprisingly marvelous. The day of street theater was so popular they booked us for more. MOHAI is moving to the Cascade Neighborhood. Ground breaking ceremony is 26 September, we're doing two more shows in the early afternoon. See you there.MID FACTUM 19SEP10 10:00PMBy the way, the whole blooming thing was captured on magic little screen -- watch it. if ya get a hankering.


META Performing Arts Camps
Northwestern Washington
Conway Muse 19 - 31 Jul 2010
Teaching acting, improv, and stage combat in the Bellingham area for students grade 3 and up. I think this is my fourth year. Amazing place, amazing people.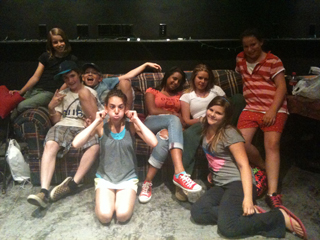 Luisa Miller
Pacific Northwest, USA
Puget Sound Opera 26 Jun - 18 Jul


MID FACTUM 22JUN10 7:00PM During the entire rehearsal process of this opera, I cannot count the moments of confusion and dismay on my fingers. The number of times I've been so overcome by the beauty of the music that I forget to do my job as director. The number of times a performer leaned into my ear and whispered, "You can't do that." The number of times I've starred dumbfounded at the libretto, swimming in Verdi's lovely cryptic poetry. This is because I'm a stage director. I barely read music and don't speak italian. I can sing, but only with a ukulele in my mitts. So why am I here, directing Luisa Miller? It's because of all of these things. It's because I lose track of my brain during some of the songs. That means those moments are spectacular without stage flourish. It's because I don't have a firm, experienced grasp. That engenders collaboration with the other artists. They stretch me, I stretch them. It's because I love Verdi's poetry. (The plot of Luisa Miller is flawless, by the way, even by contemporary standards!) So when I tell an opera singer to jump on the bar, strip naked, dance, fire a pistol into the air and sing an aria, and the performer whispers in my ear, "You can't do that." I respond: "Do it anyway. If it sucks, we'll do something else." Let me tell ya, it doesn't suck.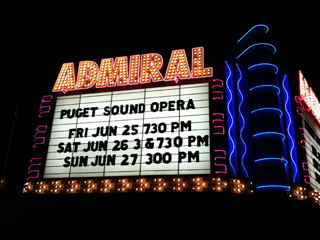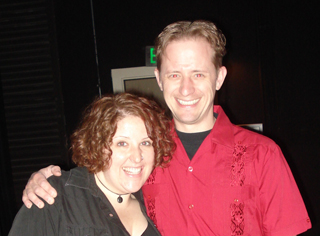 POST FACTUM 2AUG10 10:00AM Let me be frank: This was one massive bear of a project. At times it felt like Luisa Miller was cursed. With tech issue after tech issue at the three different venues, to chorus members leaving during shows prior to their scenes, to the loading truck catching on fire in Everett, there were times when my stress level was the highest it's been in ten years. It's mostly all funny in retrospect. Mostly. And though there were a few difficult artists to deal with, I met so many generous and talented individuals and stretched my abilities past the brink. The documentary crew's pervasive trailing was fun -- they are most excellent folk. I'm very proud of my direction in five scenes in particular. Going on stage in the first scene with the chorus was a blast. (Man, those opera folk party harder than college frats.) Most importantly, Luisa Miller raised me to tears up until the final performance. Mostly, I just look back on the three months with mouth agape, staring in wonder at the pile-up. Would I do it all again? Put it this way: I finally know why women want to have more kids after going through the screaming pain of childbirth. Hell yea I'd do it again. But I always was a bit of a nutter.


Big Story Small
Seattle
Pony World Jun 24 - 26 Jul 2010


POST FACTUM 12JUL10 11:00AM This marks the first time I've written a play and have had no part in the process, nor did I even see the show. Big Story Small was an evening of famous plays adapted into ten minute pieces by various authors working closely with designers. Mine was Faustus in a shadow box. Here's what Brendan Healy, producer and playwright had to say: "Your play was in the very capable hands of the exceptionally smart Pamala Mijatov and you had a bang up cast. Really, I'm surprised some of the other plays didn't riot with the talent stacking going on in Faustus. They really just did a tremendous job. And having your version of Faustus in there was a terrific counter balance to all of the modern classics and absurdists that ended up in the line-up. The shadow box looked great but it took awhile to get all the tech kinks worked out. As far as the whole show/run went, the first night was a little rough, but the other two nights went very smoothly. We sold out 2 of our 3 performances. Audiences liked it. True, I think it's objectively accurate and fair to say the night was 'eclectic'."


Evenings With Carlotta
Seattle
Annex Theatre 30 Apr - 21 May 2010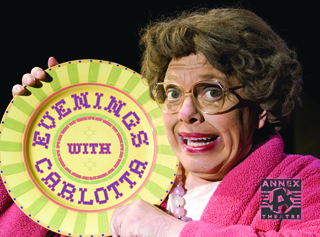 Welcome to a very 'spayshul' evening with Carlotta Sue Philpott, of Late Night Wing Ding fame. She'll have Rice Crispie Treats and Vienna Sausages, and her uniquely un-P.C. ways. So come on over, wipe your feet off on the doormat, plop down your BE-hind on a fancy theater seat, and let Carlotta take good care of you. (It's a pleasure working with Troy Mink, the 'southern fried genius' once again. Directing should always be this fun.)


Ukelooza
Seattle
Rain City Projects 18 May 2010


Rain City Project's every-other-year event. It's a delightful evening of tropical-themed performances, featuring ukulele performances by John Ackermann (of "Awesome" and the Railroad Tycoons), Bhama Roget, Superfluous the Ukulele Cover Band, and myself & Meghan Arnette; a shadow playlet by Scot Augustson, performed by Gude/Laurance; a virtual Hawaiian vacation by Jana Hutchison; and more, all hosted by the glorious Rebecca Mmmm Davis. It's also the book launch party for Rain City Projects' fantastic Volume 2 of the THE MANIFESTO SERIES, edited by Steven Dietz, featuring plays by Holly Arsenault, Louis Broome, Alison Gregory, Brendan Healy, Laura Schellhardt, and Stephanie Timm. But what gets forgotten is that it's also got an astonishing auction, crammed with fat packages of stuff that goes for a song.


VAUD RATS
Reston, VA
CenterStage 5 May 2010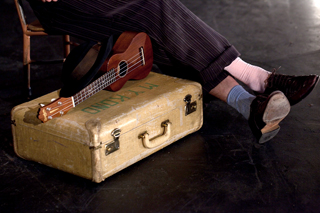 Cecil B., back on the boards, this time in the great state of Virginia, where theatrical entertainment was once a Dazzling Display of Heterogeneous Splendor.


POST FACTUM 20MAY10 10:00AM I felt like a king in Reston. No, that sounds so superior. I didn't feel superior, just welcomed and well taken care of. I felt like a sheep let into a really green pasture. No, that implies that I didn't do crap but graze. It was a full schedule, filling the two days prior to the concert. It's like you have this puzzle piece (your show) and it must go into this new puzzle (the theater). So you adjust lights and tweak sound and re-stage slightly to make it fit. In this case the show ended up looking like it had been part of the puzzle all along. The lighting system was gloriously tricked out, with the superb Linda Ifert at the helm. She's this mild mannered, mighty pixy on crack. The sheep metaphor also doesn't fit since it implies there are other sheep in the pasture too and I was doing a solo show. I was the only sheep. Well, unless you consider Tim Moore a sheep. He was my touring stage manager for the show. With his vast knowledge of sound and music, combined with the gloriously tricked out sound system at the theater and the adept technician, Alex Gomez, Tim was able to achieve the best sound Vaud has ever had. They did this thing in Sophie's Waltz where the canned uke would begin all tinny and flat, then zoom into booming surround. Teeth actually shattered. Tim also was a keen eye and apt sensibility for the show in its new surroundings. I felt like a well to do customer at a very fancy restaurant. Except that metaphor doesn't work because they actually did feed me very well. Every time I turned around there was a sandwich or a catered lunch or snacks. And they served steak before the show. I can't eat steak before a show! It's too heavy, I'd explode or vomit. But it was great. And I did eat some. Not a metaphor though, because it was real. I felt like a mink stole on the neck of an exquisite twenties flapper. Tim Mckee and Mark Brutsche were amazing running crew, helping with every sundry, as well as being responsible for the fog machine which sent Madame Flora to the moon so to speak. Mark also took the awesome photos from the wings (see above). Most importantly, they kept me from sinking into that lonely backstage solo performer panic. And got me tea when my voice was tweaking. Mostly I blame Damian Sinclaire. He's responsible for the great time had by all.


Alice In Wonderland
Seattle
Book-It Rep. 16 Apr 2010
As part of the Novel Workshop Series, this brilliant adaptation by Barb Lachman, where the character of Alice is split into two -- an innocent version and the 'Uncontrolled Alice' who eventually merges into the Queen of Hearts. Brilliant. I played the Mad Hatter and the King. Much fun.


SPF 4
Seattle
Theatre Off Jackson Mar 2010
I helped with a piece in the Best In Shorts evenings called The Riverboat Runs Aground written and performed by Wes Andrews. He's a great voice, telling a dynamically simple tale of high school life in Alaska.


Guilty Pleasures
Seattle
Book-It Repertory 15 Mar 2010
Under the Teatro ZinZani big top, I play a suspicious fiance, a gay mirror, and a car in an entertainment sampled from The Notebook.


Young Playwrights Festival
Seattle
ACT Theatre 11 - 13 Mar 2010


I've performed a few times in this fest, but this is my first directing stint. It's a great program and beautiful theater. I'm blessed with a marvelous play by high school senior Pauline Lai Heng called The Pseudo British Comedy, featuring the syncopated talent of Gavin Cummins, Erika Eie, Mike Jones, Matthew Middleton, and Sara Mountjoy Pepka, assisted managerially by Lauren Miheli. I love it when a plan comes together.


The River Why Seattle, WA
Book-It Repertory Theatre 9 Feb - 7 Mar 2010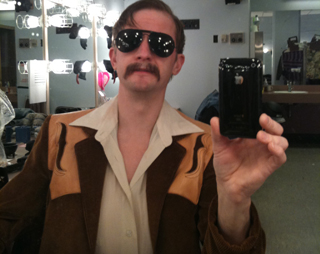 POST FACTUM 11MAR10 10:00AM One of the characters I played, Rodney T. Flyrod, was simple -- all about the mustache. (My daughters didn't recognize me on stage!) Another character I played, Titus Irving Gerard, remained elusive to me even to the end. Don't get me wrong, I enjoyed this. It made for a marvelous trek, which continued all the way to the last performance. Jeff Frieders, the actor playing lead in the show, commented backstage during the final performance that our scenes were always a jolt of fun since they were played differently every night. Hopefully this didn't frustrate our marvelous director too much; but for me, given Titus' cryptic quotations, yo-yo like quality to shift subject, and constant exploration of the spiritual unknown, this acting style seemed apropos. Nulla est hominy causa philosophandi, nici ut beautus sit. David Wittig documented the rehearsal and tech process with these amazing pictures. Frankly, I don't know how Book-It does it -- adapting novels to the stage. It was an honor witnessing the process. (Though I could have done without the re-writes up to opening.) Backstage life was lovely: thanks to Sam, Adam, Chelsea and Ruby for the chaos, Mark for the construction talk, John for the history, Tim for the constant entertainment. Admirable crew iced the cake.


VAUD RATS
Seattle
Balagan Theatre Jan 2010


A solo run on home turf for the first time in seven years. Very excited!
POST FACTUM 1MAR10 11:00AM Thank you Balagan for hosting a very successful run. Check out these great pics by David Silver. Thank you Justin Holt and the excellent Couchsurfing.org folk for a lovely post-show gathering. Here's an interview in SunBreak called The Only Tragicomic One Man Ukulele Operetta Worth Seeing. Lastly, touting my own horn, VAUD RATS' listing on ukulelia.com broke their daily hits record! "Clearly, the world has been waiting for the perfect tragicomic one-man ukulele operetta."