2006 - 2007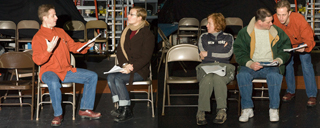 Hamlet
Seattle, WA
Annex Theatre Dec 9, 2007
To play I Polonius and Fortinbras in a radical edit of Shakespeare's horror story about a narcissistic sociopath, adapted by Bret Fetzer. MID FACTUM 30NO07: Fetzer cut all the famous lines and culled it down to bare essential action. The first reading sounded great to me -- quick and focused without the lulling iambic and jarring famous lines. The complicated plot, character interweavings, and depth seem to still play out clearly, though perhaps someone who doesn't have the movies imprinted on his brain would be a better judge of that. Plus, I'm not a Shakespeare purist, or fan even. Here's my question about Fetzer's altered ending where Polonius stabs the lone survivor Horatio in the back: if Polonius kills the only person who could tell Hamlet's true story, why would the story that survives be one where the architect (Polonius) would cast himself as a cowardly back-stabbing taker-overer of a tragically ruined Denmark? If anything, this new ending is more realistic than the original, but more likely one written by a sympathetic observer like Horatio. A conundrum. Oh, and did you realize that Disney's The Lion King is a loose adaptation of Hamlet? I didn't. Duh.




Planet Bob
Internet
Arizona State University
Check out this short educational film about cybertaxonomy. I act opposite Hugh Downs' voice.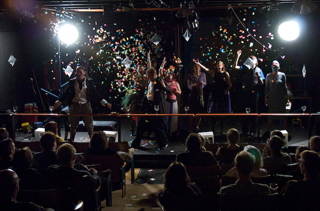 Helsinki Syndrome
Seattle, WA
Annex Theatre Oct 12 - Nov 10, 2007
Must partake in more Syndrome. I Feel Fine is the next cacophonous installment, this time with a collaborative cast of thousands (well, about fifteen, really). "apocalyptic social collapse meets fin de siecle decadence." MID FACTUM 13OC07: Show opened last night with boisterous laughter, beautiful discomfort, and an explosion of applause. I gloat because in the days before showing original theatrical work to real-life theatergoers, doubt creeps in. Will people get it? Will they be stretched and stimulated and laugh at the intended moments? Will they just plain like it? Or will there be that embarrassing polite popcorn applause? This insecurity resounds tech week of every show, but most prominent in performance art. Because performance art is weird. This show is weird. And the fact our producers have been tenuous to accept much of the content much of the time (they censored at least two elements due to political correctness concerns), it is a massive mushroom cloud of joy to receive the affirmation of a pleased audience. POST MORTEM 15NO07: "I am a wave and a particle, therefore I am immortal." The final weekend was the blowout anticipated. A sweetly discombobulated audience reaction--some folks laughing hysterically in the same moments others were still and pondering. "You see me by perceiving the brightness of me. My visage travels on a wave with particles on that wave to your eyes." All seen through the drip drop occlusion of ice melting into various fluted glassware on a rail at the front of the stage. "That is how you see me in this moment, and in the moment prior..." Misha at the Times: 'a neo-Brechtian song-and-dance orgy... vibrant and heartwarming in its messy, festive aliveness.' "...And in this moment... here. All these me moments travel out into space continuing forever, immortally." Many vivid images plastered into my head: unicorn wrestling, dirty underwear ballet, electric chair karaoke... And the producers ran a lovely smooth ship during the run. "So when this bomb goes off, when this world plunges into dark lifelessness, I will still be existing on all my collected moments traveling at 299,792,468 meters per second." FOOTNOTE 01JA08: I Feel Fine was singled out for a Seattle Times Footlight Award: "Fab Fringe" and the nod: "Hip Trend: Theatrical karaoke." Rock.





Helsinki Syndrome
Portland, Oregon
Hand 2 Mouth Sep 15, 2007
The Main Event is back! Crashing (by invitation) PICA's Time Based Art Festival. It's at 20 NW 5th Ave, performance at midnight, by the way. POST FACTUM: I'm bloody exhausted. In a good way. After a long tech day and partaking in some TBA theater and dance, we finally went up around 2am! A record for me, I think. Then costumed karaoke til dawn. The Hand 2 Mouth folks are beautifully nuts, both personally and artistically (their Tiny Dance at the Works was epically whimsical -- something like 14 people on a 4 foot square stage singing and dancing to Elton John's Tiny Dancer with full chorus support). Catch their boisterous and controversial American anthem satire, Repeat After Me, at On The Boards in November. And thanks, Erin, for hosting us in your beautiful guest house. That atrium shower... on the rocks... amongst the trees... wow.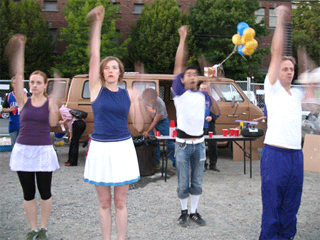 Tailgate Party
Seattle, WA
On The Boards Sep 12, 2007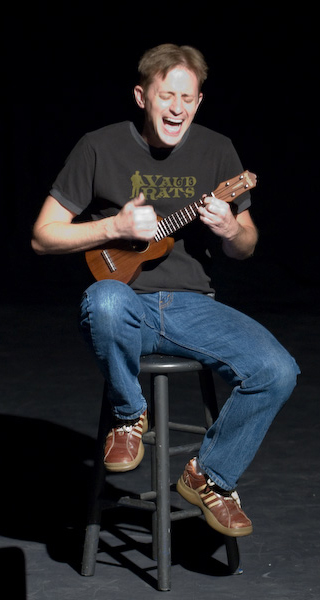 Spin The Bottle
Seattle, WA
Annex Theatre Sep 7, 2007
Two uke numbers will emerge from my fingers at this cabaret, amidst the likes of Leeni, Jennifer Jasper, Jeanette Maus, Sgt. Rigsby and so much more. It's the Bottle's 10th anniversary, and first show in their new digs. POST FACTUM: Performed Cowboy Uke from VAUD and Under Pressure rocked the house, baby -- two interplauses.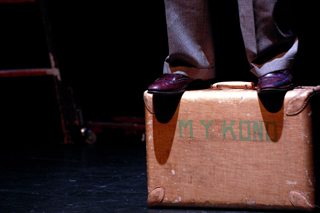 VAUD RATS
Seattle, WA
Bumbershoot Sep 1-3, 2007
Finally a chance to catch this baby in Seattle. Performances in the Center House Theater Sunday @ 6:00pm and Monday @ 4:00pm. POST FACTUM: It's a test of mental focus performing in a festival situation -- truncated show, audience free to enter and exit throughout -- and though the performances were less than polished from my perspective, they were both very fine and well received. I love returning to established material, finding nuances and pushing moments to find new juice. VAUD has definitely grown since last year: some new staging worked very well, especially the Daylight Moon Lullaby. The multiple character scenes are stronger, especially the Sophie Fay Waltz, which finally has grace. Check out these amazing rock star photos snapped by Eduardo Brambila. My only disappointment was not getting to see more shows at the festival myself.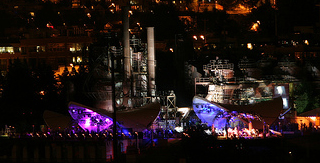 Super Secret Party
Gasworks park - Seattle, WA
En-Joy Productions Aug 11, 2007
POST FACTUM:I played a Charon-Patos of the order of the Admirables (We shall not err) ferrying a group of guests on the Ducks (an amphibious tourist vehicle seen bout Seattle); then became a grunt playing an elaborately cryptic game using Pacific Northwest Ballet dancers as elegantly movable pieces.


14/48 Festival
Seattle, WA
Capitol Hill Arts Center Jul 20-21, 2007
The world's quickest theater festival -- 14 plays conceived, written, designed, scored, rehearsed and performed in 48 hours! I've been an actor many times in this theater boot camp over the past ten years, but this time I'm putting pen to page. POST FACTUM: The weekend was incredibly successful. Writing two plays, each in 8 hours overnight, was easier than expected and nerve racking. The days after writing were akin to giving up your babies for adoption and meeting them after they've grown up -- see how strong the genetics were, and how good the upbringing by total strangers was. Seeing the product was joyous at times, and shocking at times. Thank ye wondrously talented actors and director! With Friday's theme, 'A Late Entry', I wrote a piece titled Heteropaternal Superfecundation, and with Saturday's theme, 'Persistence of Vision', I wrote Steel Train Angels. Have a read.***


Summer Camps!
Mount Vernon, WA
META Performing Arts Jul 9-13, 16-19, 2007
Teaching physical story theater to 8-11 year olds and Extreme Theater to teens in the afternoons, at Skagit Valley College.


Luau Meow
Seattle, WA
Macha Monkey @ Jewel Box Theater in the Rendezvous Tavern - Jun 20, 2007
Ukulele playin' on a Summer theme. Great line up: Three Motor Universe, Mary Purdy, Sarah Papineau, Alexis Tabor, emcee Kate Jaeger, and "geek rock" jam with E-Ray Anderson.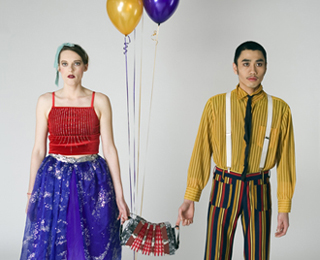 Helsinki Syndrome
Seattle, WA
On The Boards Jun 15-17, 2007
It is the Main Event -- Punch and Judy, Hip Hop, a sailor ballet, Billy Joel music... Sculpted and performed by Rachel Hynes, Mike Pham, Jamie Roberts, Alice Bridgforth and myself; Choreography by Eric Clothier, rhythmic ribbon choreography by Cameron Levin, and fight choreography by Kristina Sutherland. This is my advise to you: dare to see it. "Go, Helsinki! Go, go, Helsinki!".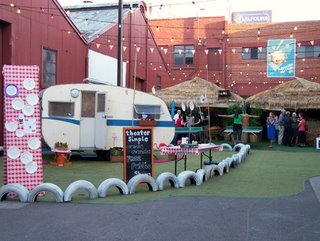 Caravan Chronicles
Adelaide, Australia
theater simple Mar 21-31, 2007
In the U.S. it's Trailer (Airstream). Down under it's Caravan. Directed this interactive outdoor event two years ago in Pacific Northwest. Now the zany family reunion cruses to the other side of the globe, becoming an on-site venue at the Adelaide Fringe, as well as touring to various locations around South Australia.


SPF:1 - No Protection
Seattle, WA
Theatre Off Jackson Mar 15, 2007
Performing a selection from VAUD RATS on the solo shorts night.


Whatever! Workshops
Port Townsend, WA
Centrum Mar 4 - 9, 2007
Teaching a week-long middle school residency focusing on character improvisation.


Young Playwrights Festival
Seattle, WA
ACT Theatre Mar 1 - 3, 2007
Playing a four year old boy in Rebecca Ehlers' lovely Magic on Mainstreet.


Avalanche: A Festival of New Plays
Seattle, WA
Seattle Dramatists Feb 3 - 4, 2007
Playing a bitter old man and a sweet ex-boyfriend in the world-premiere reading of Scot Augustson's newest masterpiece The Summer Before the Summer of Love.


Ukelooza! 6
Seattle, WA
Re-bar Jan 29, 2007
Some "deranged ukulele opera." I feel another gypsy song coming on.




Closing Night Cabaret
Washington DC
Capital Fringe Festival Jul 29, 2006
Warehouse Downtown Arts Center Mainstage
1021 - 7th St. NW




VAUD RATS World Premiere
Washington DC
Capital Fringe Festival Jul 23 - 30, 2006
Warehouse Downtown Arts Center Mainstage
1021 - 7th St. NW
Listen to a Podcast promo


Metro Studio Opening
Victoria, BC
Intrepid Theatre Apr 19, 2006
King B. DeUkulele is flying in on a float plane to headline the party for this lovely new performance space.


Seattle Mime Theatre
Pocatello, ID
Idaho State Univ. Mar 23 - 25, 2006
An evening of short work by SMT and yours truely.